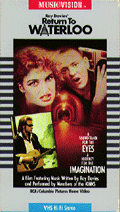 Return To Waterloo
Produced by:
Dennis Woolf - A Waterloo Films Production for RCA Video Productions in association with Channel Four.
Directed by: Written and directed by Ray Davies
Type of release: Film
Release information:


 Date    Label                               Number     Country   Format     Running Time
 ----    -----                               ------     -------   ------     ------------
 1985    RCA/Columbia Pictures Home Video    60525        USA      VHS       60 minutes

Liner Notes:
Ray Davies
Return To Waterloo
For more than 20 years Ray Davies has been the leading force behind one of rock's most intelligent and successful bands. Now the leader of the Kinks makes his directorial debut with a ground-breaking and highly acclaimed film. Return to Waterloo is an insightful and witty portrayal of the modern world, as seen through the eyes of a "well-respected man" as he attempts to confront reality and fantasy, love and violence. "The Traveller" is played by veteran British actor Ken Colley ("The Empire Strikes Back," "Monty Python's Life of Brian").
The suspenseful storyline is driven by a brilliantly haunting original soundtrack. Ray Davies has always reflected the vision of an entire generation. In Return to Waterloo he captures the emotional turmoil of the 1980's through a unique synthesis of music and drama.
Starring Ken Colley as "The Traveler". With Dominique Barnes and Tim Roth.
"As original as it is sophisticated, as mind-jolting as it is satisfying. Try it, you'll live it." -Judith Crist
"Delightfully twisted." -Rolling Stone
"A precursor of the movie musical of the future." -Wall Street Journal
"An unusually assured directorial debut." -Playboy
"Very moving and very, very disturbing... I've never seen a movie quite like it." -Martin Scorsese
---
KindaKinks.net
E-mail Dave Emlen