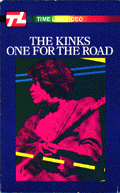 One For The Road
Produced by:
Program content © 1980 Kinks Productions and Arista Records, Inc.
Directed by: ?
Type of release: Live concert footage
Release information:


Date          Label                         Number     Country   Format            Running Time
----          -----                         ------     -------   ------            ------------
1980          Time Live Video               TLB 4000     USA      Beta, NTSC       60 minutes
1980          Time Live Video               ?            USA      VHS, NTSC        60 minutes
Jul 17, 2001  Pioneer Entertainment, Inc.   ?            USA      VHS, NTSC        60 minutes
Oct 2001      Victor Entertainment          VIVP-9      Japan     VHS, NTSC        60+ minutes (includes Arista-era music videos)

Songs:
Opening
Liner Notes:
A HISTORY-MAKING VIDEO CONCERT
It is particularly fitting that The Kinks, who shape the future of rock 'n' roll with the release of each new album, should now make musical history with One For The Road, the first concert recorded and released simultaneously on record album and videocassette. With their stage-stretching exuberance and visual fireworks beautifully woven into a spellbinding celebration of their music, One For The Road heralds The Kinks as the first video stars of the '80's.
In an era when bands change members as easily as guitar strings, The Kinks have remained remarkable stable since their formation in 1964. (Founding members Ray Davies (vocals, guitar), Dave Davies (guitar, vocals), and Mick Avory (drums), are joined on this show by Jim Rodford (bass), and Ian Gibbons (keyboards).) After attaining moderate success in England with their first two singles, it was their third release, "You Really Got Me," which brought The Kinks internation attention. A #1 U.K. smash (#7 in America), it was followed by the equally energetic "All Day And All Of The Night." Both are presented in rave-up fashion on One For The Road.
Recorded on their most recent tour, One For The Road showcases the diversity of The Kinks' vast repertoire, including show-stopping displays of the classics "Victoria" (described by Rolling Stone as being "English with a vengeance"), "Lola," and "Celluloid Heroes." Their latest hits "Superman," "Catch Me Now I'm Falling," "Attitude," "Hardway," and "Low Budget" are also presented in riveting live versions.
In their earliest days, The Kinks were regular guests on the ground breaking TV shows "Ready, Steady, Go" in England and "Shindig" in America. Vintage footage from this period, in which they perform "Where Have All The Good Times Gone," is included here as a special bonus.
The Kinks have made brilliant music at the cutting edge of rock 'n' roll for a decade-and-a-half. One For The Road continues this tradition with the same inventiveness, energy, passion, and poise that have always been theirs. It's why we first listened, and why we still do. As Ray Davies reminds us,
"Rock bands will come,
And rock bands will go,
But rock 'n' roll's gonna go on forever!"
Long Live The Kinks!
---
KindaKinks.net
E-mail Dave Emlen