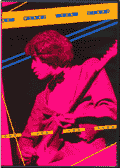 One For The Road
Produced by:
Home Video Executive Producer: Matt Friedman, Home Video Producer: John Albarian
Directed by: ?
Type of release: Live concert footage
Release information:


Date           Label                          Number        Country    Format                 Running Time
----           -----                          ------        -------    ------                 ------------
Jul 17, 2001   Pioneer Entertainment, Inc.    PA-11528D       USA      DVD, NTSC, region 1    60 minutes
Oct 2001       Victor Entertainment           VIBP-3         Japan     DVD, NTSC, region ?    60+ minutes  (includes Arista-era music videos)

Liner Notes:
In an era when bands change members as easily as guitar strings,
The Kinks
have remained remarkably stable since their formation in 1964. Founding members Ray Davies (vocals, guitar), Dave Davies (guitar, vocals), and Mick Avory (drums), are joined on this show by Jim Rodford (bass), and Ian Gibbons (keyboards).
One for the Road
showcases the diversity of
The Kinks'
vast repertoire, including the classics "Victoria" (described by
Rolling Stone
as being "English with a vengeance"), "Lola," and "Celluloid Heroes." "Superman," "Catch Me Now I'm Falling," "Attitude," "The Hard Way," and "Low Budget" are also presented in reveting live versions.
The Kinks
have made brilliant music at the cutting edge of rock 'n' roll.
One for the Road
continues this tradition with the same inventiveness, energy, passion, and poise that has always been theirs.
Special Features
Kinkdom: Interactive London map of famous Kinks locations
Bonus "behind-the-scenes" video of Dave Davies
Trivia Game with surprise reward
5.1 commentary with Dave Davies
Album Discography
Songs
All Day And All Of The Night
Lola
Low Budget
Superman
Attitude
Celluloid Heroes
The Hard Way
Where Have All The Good Times Gone
You Really Got Me
Pressure
Catch Me Now I'm Falling
Victoria
---
KindaKinks.net
E-mail Dave Emlen