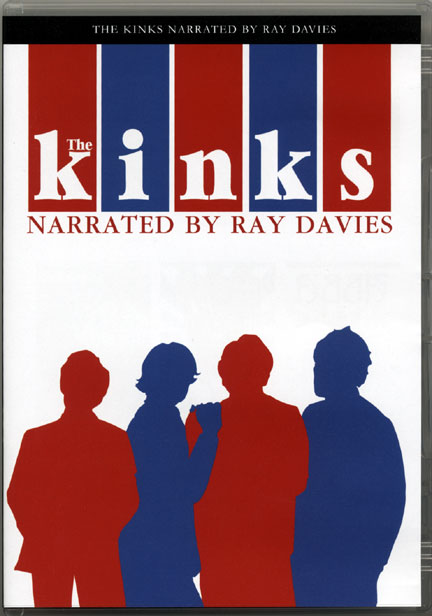 The Kinks - Narrated By Ray Davies (Golden Years)
Produced by:
?
Type of release: Video footage of various TV appearances by the Kinks, interspersed with an old audio interview with Ray Davies. Note that this DVD was titled "Golden Years" and had a different cover before it was released -- some stores still list the old title and cover.
Release information:


Date             Label                        Number      Country    Format                                          Running Time
----             -----                        ------      -------    ------                                          ------------
May 7, 2007      Plastic Head Vision Ltd.     PHV038DVD      UK       1 DVD, NTSC, all regions    55 minutes

Liner Notes:
YOU REALLY GOT ME
ALL DAY AND ALL OF THE NIGHT
LIVE LIFE · I'M A SLEEPWALKER
NO MORE LOOKING BACK
LOLA · MISFITS · WATERLOO SUNSET
LOST AND FOUND
LIFE ON THE ROAD · CELLULOID HEROES

The Kinks were a very English band in style and sound originally developed by the Davies brothers who used clever harmony singing and memorable guitar riffs to capture their huge following. The Kinks remain a strong influence on many of today's successful and upcoming bands. This DVD contains various video and television performances of some of their most successful hits, and also includes solo versions by Ray Davies of Lola and Waterloo Sunset along with his in-depth commentary.
---
KindaKinks.net
E-mail Dave Emlen