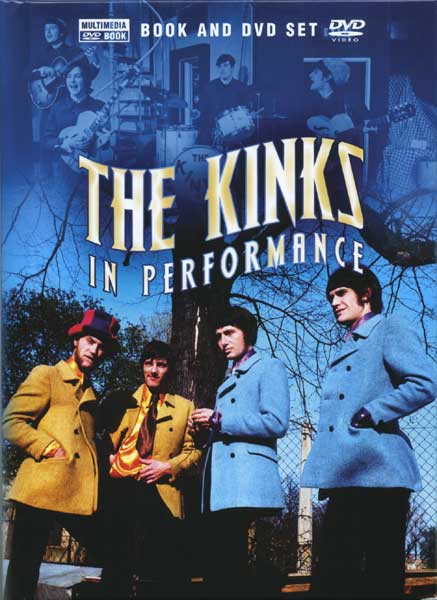 The Kinks - In Performance
By:
Paulo Hewitt, Mike Gent and Alan Kinsman
Type of release: Music critics discussing TV performances by the Kinks. Includes some video footage of the Kinks, but it is heavily edited and the critics often talk over it.
Release information:


Date             Label                        Number      Country    Format                                          Running Time
----             -----                        ------      -------    ------                                          ------------
Sept. 18, 2006   Stormbird (Bahamas) Ltd      STB2135       UK       1 DVD with 72 page booklet, PAL, all regions    65 minutes

Liner Notes:
The Kinks played a leading part of the British Invasion of America. With Ray Davies' song-writing talent at the helm, they soon became one of popular music's most significant bands, influencing a plethora of styles from hard rock to Britpop.
The DVD draws on rare footage of the Kinks performing their greatest hits live from television and film archives, and also features the views of a leading team of experts, including Kinks' biographer Johnny Rogan and Keith Altham who was Ray Davies' publicist in the 1980s.
The 72-page, full colour book features many rare photographs and includes a biography of the band during the sixties, and a complete track-by-track analysis of every studio album the Kinks released up to 1978.
FEATURES HIGHLIGHTS FROM:
• You Really Got Me • All Day And All Of The Night
• Waterloo Sunset • Lola • Well Respected Man and more...
EDITORIAL CONTROL: This project requires totally independent editorial control. This film is unauthorised and is not associated or approved in any way by present and past members of the Kinks or the management of the group.
NB: This DVD may highlight the limitations of the original film recordings or the source material.
---
KindaKinks.net
E-mail Dave Emlen