Review - Ray Davies' concert in Austin and taping of Austin City Limits
From:
John Finnigan
Date:
2 Aug 2006

John Finnigan of Texas duo 'Silver Shoes'




 

If it wasn't for the early influence of the 'Kinks' music when I was a kid, I might be that uncle who plays the accordion at family gatherings around Christmas time…

Lucky for us, our mother gave my brothers and me an appreciation of music at an early age.  I started as an accordion player at ten years old.  After a few years of lessons, my interests shifted to my older brothers Slingerland drum set.  I knew if I wanted to play in a rock band my chances would be a lot better as a drummer.  After school, I practiced every day in my brother's room to the 'Kinks Greatest Hits' album.  Mick Avory was my private tutor, and that was the beginning…


Ray Davies Texas Tour 2006

Seeing Ray in concert this summer has conjured up a lot of memories for me.  The afternoon after the shows, I looked through all of my 'Kinks' albums (mostly vinyl), and it got me wondering how much time I've spent listening to their music.  Certain 'Kinks' records, I could sing along all the way through, so I guess I've put in a lot of hours.  I tried, in my mind, to nail down my all-time favorite 'Kinks' album, but then I had sort of a 'Spinal Tap' epiphany that there were 'none better' albums than the other…  At least in the 'top five' anyway… 

In regards to 'Ray Davies' Paramount Theatre show on Saturday July 22, & Monday's July 24 Austin City Limits (taping); I guess this is a review, as well as impressions from a long time member of the 'Kinks Appreciation Society'.  In the beginning of the 'British Invasion', the big three were the Beatles, Stones, and Kinks.  In 1966, 'Revolver', 'Aftermath', and the phenomenal 'Face To Face' were all released within months of each other.  I have vivid memories of 'Sunny Afternoon', when it first came out.  Boy that was something.   I was just a kid, but I was listening…  There has always been something about the Kinks music that connected deep into my brain.  As a boy, walking around my neighborhood, I really thought I was on to something, toting my 'Kink's Greatest Hits' LP everywhere.  I played in my first 'group' as a rock drummer at the age of fourteen.  Our lead guitarist played the counterpoint guitar riff to 'Who'll Be the Next in Line', while singing the lead vocal at the same time.  That was impressive.  I couldn't listen to him too closely for fear of dropping the back beat.

In the summer of 1972, my girlfriend, Maureen, and I went to the UK.  It seemed fitting, that after years of being a 'Kinks fanatic', it was there, in Doncaster England, I saw the Kinks in concert for the first time.  Ray was balancing Newcastle Brown on his head, spilling as much as he was drinking.  The Kinks were a rowdy band in those days.  We partied for a few days at a B & B in Blackpool with some really great people.  They had Double Diamond on tap in the front room.  I think the reason we went there in the first place was because of the lyrics in 'Autumn Almanac'.  We spent almost a month in the UK, traveling to Ireland, and Scotland, visiting my dad's family in Aberdeen.


Doncaster England Summer 1972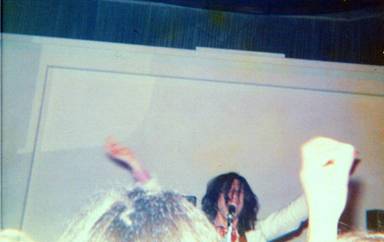 Ray & John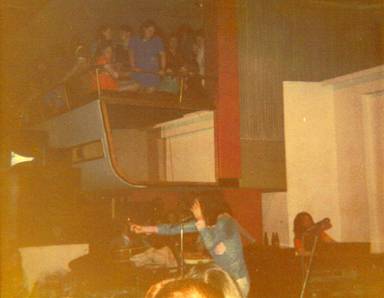 We didn't have a good camera for this Doncaster Show, but these pictures are some of our favorites…

 

Mick , John, Dave, with the horn section




 

Oh demon alcohol




 

Ray Davies in Doncaster England 1972




 

We saw the Kinks in concert many times in Chicago throughout the 1970's at the Aragon Ballroom and the Auditorium Theatre.  The best show I remember was at the Auditorium when they were doing the 'Preservation' tour.   We had front row seats and arrived a little late to discover there was no opening act.  The 'Kinks' were the opening band.  They were already well 'into the zone' when we sat down, and they were very tight.   I had never heard them sound better.  Ray and Dave's vocals were 'right on' and it was an incredible first set.  They played for what seemed like a whole concert, then took a good long break, and came out with the 'Preservation' stage show in its entirety, complete with costumes and props.  When they came back onstage and the music from 'Morning Song' started to swell from the big speakers, it was like a Broadway Show…  At those concerts in the 1970's, The 'Kinks' use to play 'Victoria' during the show, and then 'do it again' during the encore. The roof would almost come off the building…  To this day, that (Preservation Tour) is in my top ten concerts, ever…

The Auditorium Theatre Chicago Preservation Tour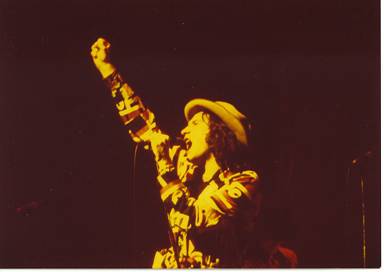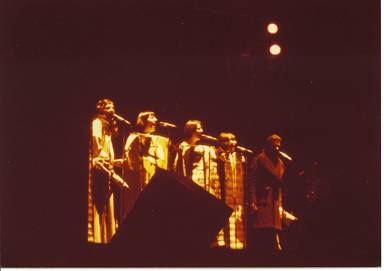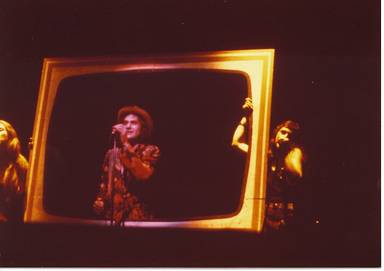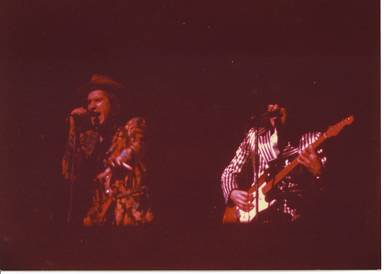 One of the best concert tours ever…  The Kinks out did themselves at this show!

 

 

Backstage at the Auditorium Theatre Chicago, later in the 1970's.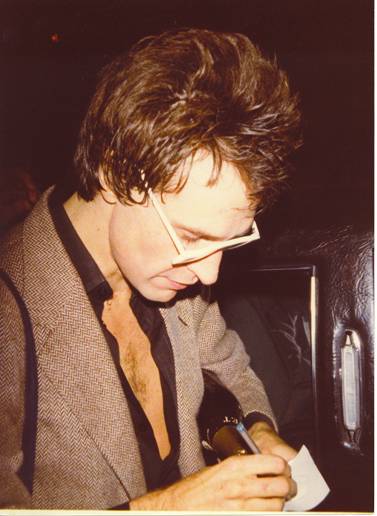 Dave Davies (The Kinks have a huge following in the Windy City)




 

Mick Avory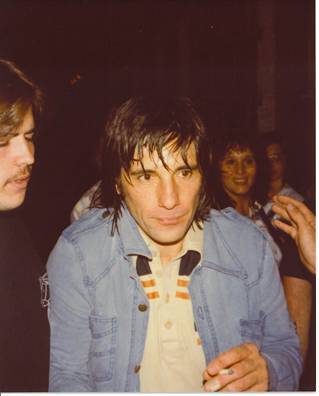 When we moved to Texas in the 1980's we were playing over three hundred gigs a year.  We always picked up their latest release, but missed most of the Kinks tours during that time.  One night at a gig in Houston, I noticed a young 'hippie dude' (ala Sean Penn in 'Fast Times') with a Kinks T-shirt (British Flag on front) from the 'Give the People What they Want' tour.  From the stage, admiring his shirt, I told the guy we were big Kinks fans.  He shouted to us. "If you can sing 'Lola', I'll give you my shirt".  We accepted his challenge, and when our harmonies kicked in on the bridge, ("Well I left home just a week before"), the guy screamed from the audience, ran up to the stage, took of his shirt, and threw it on our keyboard.  Everyone gave him a big round of applause.  I still have that shirt…

Racing to catch the last few songs of his show, we had the pleasure of seeing (and meeting) Dave in the summer of 1999 in Houston.  In October of 2001, again in Houston, we saw Ray (with Pete) during his solo tour.  He dedicated 'See My Friends' to his sister, who bought him a guitar when he was a kid.  It was the 'peak' of the show for me, when he sang that song.  One of my favorite memories…

When we found out he was coming to Texas in July this year, we were already booked on the night he was in Dallas, but we were open for the Austin show.  The Paramount Theatre is beautiful, and there's not a bad seat in the house.  We knew Austin would be the best town in Texas to see Ray, and we don't mind driving three hours.  Before the show, as we were walking into our favorite Mexican restaurant on Congress, I said hello to a guy who was standing by the front door with his mother.  After dinner, as we were leaving, we saw him again in the front of the restaurant, smoking a cigarette.  He says to me, "Are you here for the concert"?  I said, "Yea".   "Do you know that Ray Davies, and his driver, just walked out the door of the restaurant, when I saw you guys earlier"?   "No kidding, so Ray ate here too"? I said.  "Yea, you missed him by minutes".  He said his mother raised him on 'Kinks' music, and although he was probably twenty something, we could tell he was a serious fan.  He asked me which Kinks record was my favorite.  I said, "I don't know man, maybe 'Village Green', or 'Arthur', that's a great one".  He gave me a 'high-five', "Man, those are my two favorite 'Kinks' albums too"!  So I say, "What about Muswell Hillbillies"?  He starts laughing, "Oh yea, that's' a good one too".   Kinks fans from all ages are the best… 

It's ironic that we met him and his mother again at the show just a few seats away from us.  We were sitting in the third row of the first balcony section, and excited about seeing Ray with a full band again.  Maureen's sister gave me the 'Other Peoples Lives' CD for my birthday, so we were already familiar with his new songs.   It was a nice clean stage set up at The Paramount, and I was happy to see an accordion up there.  It was one of those European style accordions, with one hundred twenty buttons for the left hand.

Ray came out alone and greeted the crowd.  He was welcomed with a standing ovation of applause.  For a minute or two he walked from one end of the stage to the other, waving to people and shrinking the Paramount into his own 'front room'.  He picked up his 'turquoise colored strat', and played the intro to 'I'm Not Like Everybody Else", and after the first verse the band joined in.  In the middle of the tune the stage lights flashed bright with a 'crashing power chord' and the band went into high gear.  In all the years, I've never heard Ray sound better.  The second song was the chestnut from 'Kinks Kontroversy', 'Where Have All the Good Times Gone'.  Ray's vocal was powerful, clear, emotional, and had the same familiar urgency that made him 'stand out from the pack' all those years ago when I almost dropped my books on the way to grammar school, hearing 'You Really Got Me' on my transistor radio, for the first time.  The songs from the new album flowed perfectly throughout the show, as well as some great tunes from the Kinks.  'Oklahoma USA' was especially moving, featuring just two acoustic guitars and the accordion.  He dedicated the song to his sister Rosy, who used to take him to see movies when he was a kid.  Before the song, his side-bar comments about Randolph Scott were funny as hell.  He made some references to 'Brokeback Mountain'.  I guess you had to be there… I thought of my mother when Ray sang an acoustic version of 'Celluloid Heroes'.  I can still hear her say, "That's the best song Ray Davies ever wrote".  Ray was in a fine form on Saturday night, the band was tight, and 'in tune'.  The keyboard player was jamming on an accordion during 'You Really Got Me'.  Maybe I imagined that?  They played just shy of two hours.

Monday morning I got on line and saw that the Austin City Limits (taping) was switched from Tuesday to Monday.  I downed my coffee and said to Maureen, "Let's go back to Austin, and see if we can get in".  We figured if we didn't get in, just have dinner and come back home.  The way it tailed out, we somehow were lucky enough to end up in the front row, next to some 'Flying Burrito Bros.' fans, before the show started.  All through the years, I have found 'Kinks fans' the most interesting people.  They are like musicologists…

The taping of the ACL Show was obviously different from Saturday's concert at the Paramount Theatre, but it was real enjoyable on another level.  Ray was stopping to re-tune an acoustic, or switch to another guitar.  His jokes between some of the technical problems were priceless.  Introducing one of his new songs he mentioned that he had a relationship once, with his drummer.  In a sardonic tone, he turned around and said, "Not this drummer, it was Mick Avory".  I hope they keep some of his 'one-liners' in when they edit the show.  Ray is a great comedian…  I drove over a hundred and sixty miles down hot Texas roads that afternoon, and we didn't even have tickets. We felt it was a privilege to be there. 

At the ACL taping we were real close to the stage, and I'll have to admit, I thought about how great it would have been if Dave had been there.  People always 'rave' about Dave's fantastic guitar playing, and rightly so, but his vocal harmony behind Ray is always equally important to the 'Kinks' music, in my book, anyway. I couldn't help becoming a little nostalgic, but this was an 'Evening with Ray Davies'… Ray mentioned Dave several times at both shows and introduced the lovely 'Karin Forsman', saying, "Karin is going to sing Dave's part on this song".  She is a great singer and very charming, just appearing on stage once and awhile.  Mark Johns also deserves mention for providing excellent guitar work throughout the show.  Ray really put a good tour together this time around, and I'm sorry for the fans that couldn't make it.

During the last encore at the ACL taping, the band was 'kicking ass' on a rollicking version of 'Low Budget', when Ray strolled out in a beautiful black cowboy hat.  On the last night of his USA summer tour, Ray Davies in a cowboy hat, now that is classic…

My review for both of the 'Ray Davies' Austin Shows are the same…