Review - Ray Davies, Variety Playhouse, Atlanta, Georgia
From:
Jeff Crouch
Date:
March 23, 2006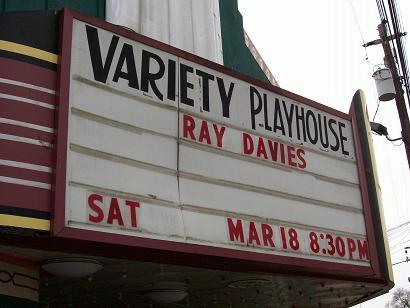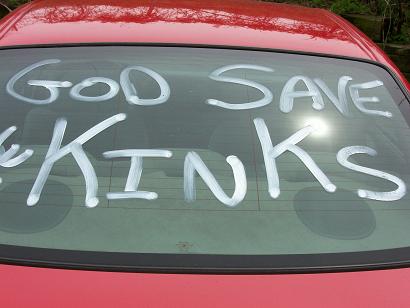 Ray shows up at 4:00 o'clock seeming a little flustered. He signs for a few of us (my original PYE release of FACE to FACE). I then hand him my CD and he goes to sign it and I say no sir, this is a gift for you.
During sound check played the HARD WAY....45 minutes came out walked directly to me and this is the conversation: (Photo with me and Ray)
RAY: Is that your own original music.
JEFF: Yes Sir, I saved my pennies and bought some digital equipment. The songs are original and I did all the instrumentation.
RAY: Well, I won't be able to listen to it before the show but I certainly will after.
JEFF: I just wanted to share it with you. There is contact info on the liner notes. Thank You so much for taking it.
RAY: Your welcome. I'll listen to it.
After he spends another 45 seconds signing for others who brought their Kinks albums I felt it appropriate to say "By the way, your new album is wonderful. Thank you so much". Everybody else chipped in nervously Yeah its great, etc.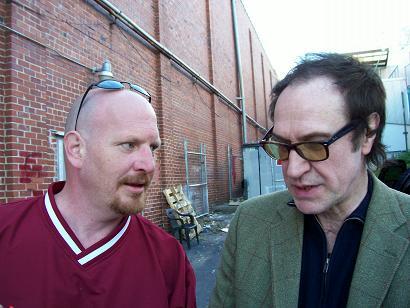 Jeff Crouch and Ray Davies
THE CONCERT:
The crowd was wonderful and packed. 1300 very energetic fans. Here are the songs with some comments.
I'M NOT LIKE EVERYBODY ELSE
WHERE HAVE ALL THE GOOD TIMES GONE
TILL THE END OF THE DAY
AFTER THE FALL
20th CENTURY MAN
OKLAHOMA USA (he had been engaging in between song banter earlier but he dedicated this one to his sister ROSY, who would take him on all her dates to the theater. Apparently Rosy liked to date...he saw the same movie 6 times
He knew at that time in England the job opportunities for women were limited as was their future.)
VILLAGE GREEN
PICTURE BOOK
JOHNNY THUNDER (He introduced the VGPS songs as being from their biggest flop and made a comment about great things taking time. During Village Green he sang "And Daisy Married Tom...." Stopped, look directly at me and said "Do You Know Why"....I jauntily cocked my head, much like an inquisitive puppy and said "because he owns the grocery???" Ray laughed and said "You figured out the plot!!!
SUNNY AFTERNOON
DEAD END STREET (Great crowd particpation, actually the whole concert)
NEXT DOOR NEIGHBOUR
CREATURES OF LITTLE FAITH
THE TOURIST (Extended kick ass rocking jam- at least 10 minutes the crowd was exstatic. He then said they would be taking a fifteen minute break but before doing so would like to play one of his favorite songs- interesting
LOW BUDGET
INTERMISSION: Ray is very active with the crowd and had slapped hands with me (and others) 3 times by the 5th song. A woman asked me how long have you known Ray, I said about 4 hours.
LONDON SONG(London Town)???
STAND UP COMIC
THE MORNING AFTER
DAYS verse 1 acapella(sp) with the crowd of course
verse 2 with acoustic
verse 3 with whole band....Tears were flowing by the end
A LONG WAY FROM HOME
LONESOME TRAIN (both with Karin. Ray spoke of Dave often and its clear he loves and misses him)
Before he played the next three songs he said something to the effect of keeping them fresh for when he sees his brother again!!!!!!!!!!!!!!
TIRED OF WAITING
SET ME FREE
ALL DAY AND ALL OF THE NIGHT
Encore 1:
Slow build up blues while Ray tells the story of how every record company turned them down saying we like the songs but the guitar sounds like a barking-dog!!! He even mention that DECCA turned them down and, oh yeah they turned down the Beatles, too. He then tells the story of tinkling on his mothers piano YRGM and Dave walks in the room and says "What the F$%& is that?" "Something, I've been working on" Dave picks up the guitar and shows him how to do it. The band slowly builds in energy. Then he says when they were in the studio Dave would give him a scowl and if he was really pissed he'd spit and scream "You better get it f%&*ing right, this time". Audience is in hysterics!!!
YOU REALLY GOT ME
Encore 2:
LOLA
Final comments....Guys(and gals) what a wonderful evening. I know we all love the set lists but what was most important was that it was RAY (everybody outside kept on saying this was their 3rd Kinks concert etc., one kid about 35 said he was a virgin and this was his first 'Kinks' show) I was excited for him.
What I mean is ...TIRED OF WAITING, SET ME FREE, ADAAOTN,YRGM are not my favorite songs...but it didn't matter. Set Me Free sounded so wonderful and fresh. How could you not love it. Please don't be dissapointed about Waterloo Sunset....this humble Kronikler thinks DAYS is the better song, anyway. The new songs were excellent and did not detract from the feel or mood of the show.
Ray loves Atlanta, he was so full of energy and humor and that wide as a river grin. Changes the whole complexion of his face. He said he would be back!!!!
As I left and began the long drive home it made me a little meloncholy that I hadn't seen the Kinks since I was 18 (1981) after moving from Atlanta and that Ray was almost 62. I listened to the Kinks all the way home. God bless you all and GOD SAVE THE KINKS!!!!!!!!!!!!!!!!!


Jeff Crouch