More Than A Soap Opera – Presented by The Garage Theatre Group June 21/22, 2003, Becton Theatre, Teaneck, NJ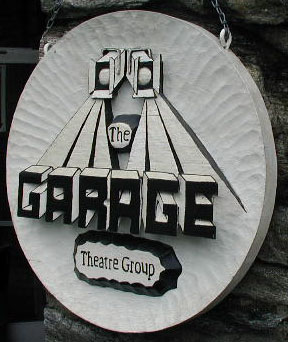 Having seen Ray's "80 Days" production at the La Jolla Playhouse in 1988 and last year seeing "A Soap Opera" by Infernal Bridegroom Productions in Houston, I just had to find a way to see "More Than A Soap Opera" despite being 3,000 miles away from New Jersey in California. I chose to come out the closing weekend and to visit a friend in the area.
I arrived at 7pm at Newark Airport. By the time I got my rental car, found the hotel and then headed over to the Becton Theatre to pick up my tickets it was 9pm. The evening show was getting close to intermission (I could hear Holiday Romance in the background). I got my tickets for the Midnight show and for the final show, the Sunday Matinee.
For those not familiar with the premise, the production is a merging of the two albums, "Soap Opera" and "Schoolboys in Disgrace". Act one follows "Soap Opera" with Norman, an over-the-hill 1960s non-entity, obsesses over his lost dream of being a rock star, while at the same time being driven to the brink of lunacy by his mundane wife, boss, and co-workers. Act two, based on "Schoolboys in Disgrace," flashes forward to the punk Eighties: Norman's son Flash, a teen rebel, has to choose between following his dream or marrying his pregnant girlfriend and winding up like his dad.
The Garage Theatre Group offers productions using equity actors and has youth group programs also. "More Than A Soap Opera" involves both, using equity actors in the lead roles with talented youth actors filling out the cast. The combination adds to the depth of the experience as the high school ensemble fits the story well.
Here is the list of musical numbers:
ACT I – 1968, Queens, N.Y.
Everybody's A Star (The Creator & Ensemble)
Ordinary People (Norman, Andrea & Ensemble)
Rush Hour Blues (Norman, Andrea & Ensemble)
Nine To Five (Sally & Ensemble)
When Work Is Over (Ted & Ensemble)
Have Another Drink (Bartender & Ensemble)
Holiday Romance (Norman & Ensemble)
Underneath The Neon Sign (Norman)
You Make It All Worthwhile (Norman, Andrea & Ensemble)
Ducks On The Wall (Norman)
Face In The Crowd (Norman & Ensemble)
-Intermission-
Ordinary People (The Band)
ACT II – 17 Years Later
School Days (Andrea, Norman & Flash)
Jack The Idiot Dunce (Ensemble)
Education (Flash, Scratch, Skeeter, Jack & Ensemble)
First Time We Fall In Love (Norman, Andrea & Boys)
I'm In Disgrace (Flash, Lisa & Ensemble)
Headmaster (Flash)
Hardway (Mrs. Skoll, Flash)
Last Assembly (Ensemble)
You Can't Stop The Music (Company)
Finale (Company)
The show begins with Norman walking on stage talking to the audience with his wife nagging at him from off-stage. He finally returns to bed, falls asleep and from a video screen we see the Creator, who then bursts on stage to swap places with Norman. I noticed during Everybody's A Star the band played a short YRGM riff. Norman awakes, goes about his routine and then it is off to work.
At the office he is literally a bean counter, he counts beans. His boss is always on top of him, he wants to burst out but just lacks the strength. The office is set up in a very mundane fashion, with workers just typing all day. His office mates encourage him to go to the Dew Stumble Inn after work for a drink. It is festive, I found Have Another Drink to be particularly fun. A travel video is shown as a Holiday Romance begins with all the tempations.
As Norman works through Underneath The Neon Sign he gets mugged and then returns home. A personal highlight of "Soap Opera" of mine was You Make It All Worthwhile and this production did not disappoint. As this setting is in Queens, NY and not England there is no Shepherd's Pie but we do have Franks and Beans, which reminds Norman of counting beans at work! An inflamed Norman then takes focus on the Ducks On The Walls with a guitar machine gun display.
It is at this point that Andrea tells Norman she is pregnant, Norman locks himself in the bathroom and realizes that he is just a Face In The Crowd.
After the short intermission, the band gave a heartfelt blues rendition of Ordinary People that got us ready for Act II, with Norman and Andrea's son, Phillip (Flash) now in High School. Andrea and Norman tell Phillip (who insists on going by Flash) of the importance of School Days. At school, the kids pick on a brainy kid name Jack where a new kid, Lisa gets introduced and then goes into an outstanding rendition of Education. At this point Flash has taken fancy to Lisa and romance sprouts. They go to a movie, with the usual awkward affection sharing. They then show a short video of them have fun in the park as their love blossoms.
Back at home, Flash and his guy friends talk of the developments when Norman and Andrea enter the room and sing of the First Time We Fall In Love which was very well done. Later, Lisa has news that she is "late" and Flash laments I'm In Disgrace with energy felt across the stage and into the audience.
It is now time to see his Headmaster, Mrs. Skool, and explain his situation. She replies in a Hardway ending in a racy scene. Inspired by his teacher and parents, Flash changes his ways, he cleans up his act and takes responsibility. Him and Lisa come together at the Last Assembly.
The show then finished with a frenzied You Can't Stop The Music which is followed by a video/slide show of Rock Stars of the past. The production closes with Education reprise Finale.
The Saturday midnight show was an intimate experience with a sparse but enthusiastic crowd. The final Sunday matinee was mostly full with a collection of cast family and friends along with a senior citizen's group. As I looked around at the audience during the shows, they seemed captivated by what was going on the stage.
The equity players did a great job. Darren Behr, a lawyer by day, did an outstanding job as Norman. Lori Beth Perry played Andrea and other roles to a tee. The talented Michael Bisogno did the honors as the Creator and then as Flash in the second act. TC Tanis played Norman's boss, Mr. Applebaum with the light seriousness required. My favorite standout was Cole Razzano who lead the bar scene as bartender and played Lisa with youthful exuberance.
The eight-piece band, lead by Gail Lou (who also played a convincing Mrs. Skoll) was very tight and really gave the show the energy it needed to tell the story. Also, adding to the experience was the choreography, which was very well coordinated by Canedy Knowles. And of course, the charm of this production was the Ensemble, made up of local high school drama and music students.
The driving force behind this production was from the Director Michael Bias. In the program he quotes Ray Davies, "There is a guy on the block, he lives for rock . . ." and says he is that guy. I too was that guy and thank him for putting this great interpretation together.
After the show, the directors and cast stay around to ask questions. This was a very nice touch. I saw many people asking various questions. I asked, all the songs from "Soap Opera" and "Schoolboys in Disgrace" were included except for No More Looking Back, why? The answer, "It just didn't add to the story at that point coming off The Last Assembly." I also had a chance to talk to some of the cast members and they really enjoyed the material and I think a new group of Kinks fans have been created.
I also understand that this may not of been the last performance as the production director and book author, Bias, plans to see if he can take it off Broadway, maybe be in London on the West End following other rock inspired productions like Mamma Mia (Abba), We Will Rock You (Queen), Taboo (Boy George) and Our House (Madness).
Rob Peirson, a Dedicated Follower . . .
Below are a few pictures from the show:

| | |
| --- | --- |
| Norman and Andrea | What's Flash to do? |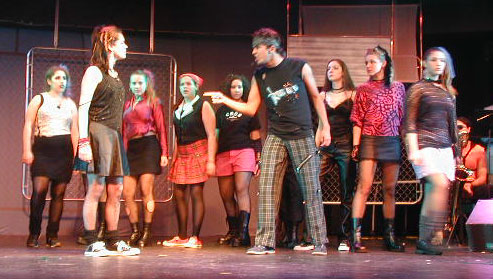 Lisa and Flash



Last Assembly



Jack the Idiot Dunce