The Kinks Resurgence Continues
Seattle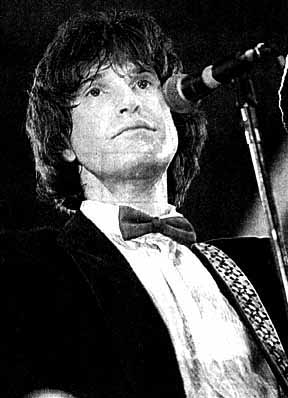 Ninety minutes after the Kink's show at the Seattle Center Coliseum, Ray Davies is stolling out of a restaurant called Bob Murray's Dog House, a vanilla milkshake sitting comfortably in his gut. A handful of fans are lounging in the booths as he passes, and they greet him quietly, saying "great show" and "Thanks" or in one case just signaling with a slow-motion salute. It's not the star treatment - more like the curious respect accorded some famous Bible thumper or Houdini. The feel is give him room. Ray nods and smiles. "Cheers" he says several times in a surprisingly thin voice.
Outside, he peers at a newspaper vending rack. The topmost line of the freshly inked evening paper is a teaser for a feature inside: WANT TO SEE THE ROLLING STONES? FIFTY BUCKS. Davies drops a quarter in the slot, carefully opens the rack's glass front and reaches in. He seems not to see the ripe stack of copies and grabs the one paper that is clamped against the glass for display. It slides up reluctantly, making little ripping sounds. The metal clasp rattles against the glass as Ray lets the door slam shut. He peers at the orphaned stack of papers in their dark tomb and mutters what sounds like "Oh, drat." It's impossible to say, standing there in a midnight drizzle, if rock and roll's absent-minded professor wants to laugh or not. But I can't help it.
Trailing Davies last fall from Los Angeles to Seattle to Vancouver to Boston and, finally, to New York on the highest grossing tour the Kinks have ever done, I watched his ledger of winsome misdemeanors grow. After ducking a writer from an English paper for a week (while the record company's hotel and plane bills piled up), Davies was informed that the scribe had given up and gone home. Huffed an offended Ray: "The silly prat."
Placating me with small talk as we dished up lunch from trays provided backstage at one soundcheck, Davies knocked some turnip concoction (Ray and brother Dave are vegetarians) into the gravy. He then offered an apology: "From recluse poet to public nuisance in six months."
Ray was probably referring to his newfound commerciality, but it's clear that Ray's romance with the Pretender's Chrissie Hynde has helped him overcome his shyness. She doesn't like treading into specifics about Ray, yet they are obsessed with each other. "If you care about somebody's who in a shell," she'd said "wouldn't you have the ambition to pull him out and smash the shell so he can't go back? Because it's not like he's happy in there."
Perhaps Ray Davie's intriguing reclusiveness has been a positive factor in the Kinks eighteen-year staying power. They've released at least an album per year (their latest, "Give the People What They Want" has hung in the top 50 for four months), but as a live attraction, they've moved up in fits and starts. They shot into the public eye with 1964's "You Really Got Me" and the next years "Tired of Waiting For You". But by in 1965 found Ray Davies - bearded, sleepless and turned into a madman by a wild tangle of song publishing and management rip offs - running the eight miles from London's Muswell Hill to Denmark Street with all his money in his sock. He took a swing at his publicist, ran out and was finally chased down on a Soho street by his manager and a doctor in a taxi.
That incident set the stage for the Kink's long, thorny adolescence. There were fights and drunkeness on stage and a four ban from performing in the U.S., a result of the group's having broken an entertainer's union regulation. And then there was the frazzled Ray's retirement (albeit short-lived), announced from an English stage in 1973. But with the release of 1977's Sleepwalker, the Kinks began to regain their former popularity. The subsequent LP's, all well-received collections of exquisite ballads spiced with practiced, pumping rock and roll, yielded several popular singles, and the band's tours shifted out of 5,000-seat halls into bigger arenas. The sales figures for their live One For the Road LP certified the Kink's return to the big leagues. By last fall's tour, the Kinks were playing such hangars as the Boston Garden and Madison Square Garden, and when the group announced that they'd be making a second swing through the East Coast after the New Year, the 17,000 seat Bredan Byrne Arena in East Rutherford New Jersey, sold out in three hours.
Throughout the tour, Ray Davies seem dogged by the overwhelming Stones hoopla that was stealing some of the band's thunder. The Kinks were invited to open for a few Stones shows, but they didn't pursue the offer. "We played a few 20,000 seaters when I was 18 and 19," said ray, "so it's not new to me. But it is new in this recent climb of the Kinks. I can just manage to get 'Art Lover' across to 15,000 people. But when the music 'industry' get into such large-scale scheduling, planning the territorial rights of stadiums - it's kind of a hollow victory in the end."
Davies had a much more meaningful victory in mind for Seattle. When the Kinks last played there, in 1979, some overardent fan had been crawling around in the rafters, and during the last song of the set, he fell through, injuring several people below. The same week, Ray was detained as he crossed from Canada into the United States; authorities were sure he was the phony Ray Davies - an impersonator who had been signing checks and pulling scams up and down the West Coast.
So Davies felt he owed this date a little extra. During the afternoon prior to the performance, I found Ray squatted on his haunches, playing his acoustic guitar to an apple-cheeked girl who looked to be about fourteen: "Ah bless ya taxman, bless ya all/You make take some but you'll never take it all....."
Ray introduced the girl. "She wanted to hear 'Harry Rag'", he said. "Came here from Missoula, Montana." "Harry Rag" is cockney for cigarette, and Ray's song, about the consolations the proletariat gets from smoking them, dates to a 1968 Kinks album. I could've asked here why she rode ten hours on a bus to hear a song that was most likely recorded before she was born, but I was saving my questions for the three young women nearby who'd spent $4000 apiece to follow the tour on its long clockwise sweep from Florida to here. And they aren't even groupies - just typical God-Save-the-Kinks ravers with more disposable income than their fellow cultists.
At three hours, that night's concert was their longest ever. Dave Davies, introduces by Ray as "the Raging Bull of the Les Pay" threw his trademark squalling leads into such rockers as "Destroyer" from Give the People What They Want", then laid lacy patterns over melting ballads like "Art Lover" and the classic "Waterloo Sunset."
The chaos that's always been part of the Kinks repertoire seemed held in check. Each tour, though, does have its blowup. Two years ago in Maryland, Dave spit at drummer Mick Avory for some musical peccadillow, then kicked the drum kit apart as Mickk stalked off. The latest battle came at Nassau Coliseum on Long Island, when Dave accused Mick of not ending a song on the downbeat. Mick rose, kicked a drum stand over and walked off. "I think our drummer's just had a phone call," Ray told the audience as he chased Mick into the dressing room. "He said 'I'll come back and finish just for you," Ray recalled. "And I said, ' What about 14,000 people?' And Mick said, 'Well, I'll do that as well.'" Ray, an inexpert disciplinarian, threw curry at Dave backstage after the show.
What they'll make of such shenanigans in Japan and Australia - where the Kinks are headed after their current sweep of the East Coast - is unpredictable. But it will be interesting when Ray Davies' reminiscences of thise countries find their way into songs.
Give the People What They Want is unified by the kind of hard-edged satire it's title implies. It appears that Davies, a master miniaturist of British culture, has broadened his scope considerably. "Killer's Eyes" was written on the bus to Scotland after Ray saw a newspaper picture of the fanatic who tried to shoot the Pope. It also has threads from the Yorkshire Ripper's history and John F. Kennedy's assassination. A final reference point was to John Lennon's murder, and according to Ray, the line "Why'd you go and do a thing like that?" almost unconsciously emerged the Lennon's brand of phrasing.
Davies discovered early in the Kinks' career that one benefit of being a songwriter was having something to do with his frequent sleepless nights. "I've had this restlessness since I was young," he said. "I guess I was just a very aware little kid." This past year, on his thirty-sixth birthday, June 21st, he and Chrissie Hynde boarded a Number Twenty-Seven bus in the heart of London, entering through the top by a window, and then rode southwest to the school for disturbed children that Ray attended for a while during his youth.
"It turned out I learned quite a lot back there. I felt the world was a lie, though I couldn't put my finger on what I was worried about. But when they tried to prove otherwise, somehow I would put up a verbal argument. I'm still kind of doing it." Davies was explaining this over a London map I'd brought for our talk. "Yeah, we started from Baker Street, took the twenty-seven bus down there and couldn't find a bus to go back, so we took a train to Waterloo Station. As we arrived....."
"Its was?"
"Sunset"
---
Fred Schruers
, Rolling Stone, 1982