Do you have a great story to tell about being a Kinks fan? Or photos to share?
A new book will collect the best fan stories from Kinks fans throughout the band's remarkable 60-year(!) career, and you're invited to submit yours!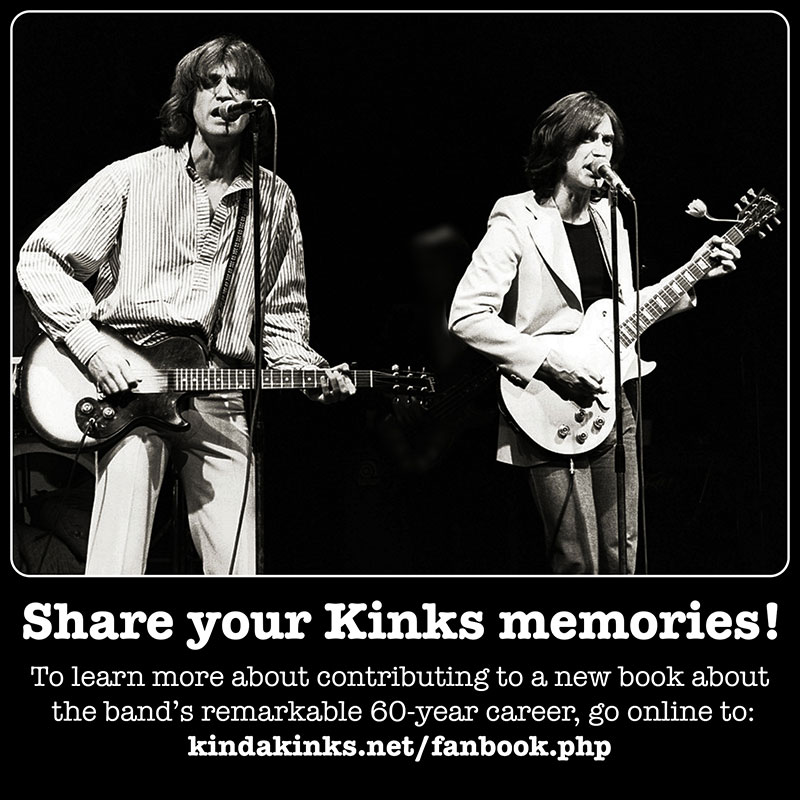 We're looking for memories from 250 to 750 words that are tied to one incident or time.
The book will be organized by decade (1960s, 1970s, 1980s, etc.) — so even if you don't have an exact date, the year that the story takes place is essential.
Stories from after the final Kinks concert in 1996 are welcome.
So that includes Ray and Dave Davies solo tours, the
Come Dancing
and
Sunny Afternoon
musicals, even the Kast Off Kinks.
Here are some general examples (but obviously there are other possibilities):
How you first encountered their music
The concert that made you a fan and why it was special
A time when the music gave you joy or solace
How you met your spouse or best friend because of the Kinks
A time you interacted with band members and what made it memorable
What we're not looking for:
General sentiments about the band and how great they are (we know that!)
Album / song reviews
Fabricated stories (if we question a story's authenticity, we will not use it)
We will be using only the best and most compelling stories.
Please think about what makes yours unique and interesting to other fans (as well as general readers).
If you're worried that you're not a good enough writer, don't be!
I'm a longtime editor, and if your piece is selected, I will work with you to shape your submission to be the best it can be. Having a good story is the important thing here.
You're welcome to submit multiple stories.
We can then discuss which one would be the best fit. Contributors will be limited to one published story for now, but we will re-evaluate depending on the final number of entries.
We're also looking for cool photos!
Something beyond the usual "here I am with Ray or Dave" photos (as wonderful as those are for us as keepsakes). Concert photos, behind-the-scenes shots, anything rare or unusual. These must be your photos and you must own the copyright. Should be in focus and able to be sent as a high-resolution .jpg. Any questions on this, ask me.
Please send your entries or questions to kinksfanbook@gmail.com.
Please include your full name, town/city of residence and any other relevant biographical info with your entry.
The deadline for submissions is Nov. 1, 2023.
Chris Kocher
(Editor)
---
KindaKinks.net
E-mail Dave Emlen