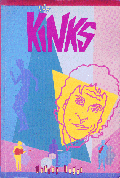 The Kinks - A Mental Institution (US)
The Kinks - The Sound And The Fury (UK)
Author:
Johnny Rogan
Publisher:
Proteus Publishing Company, New York, NY
Publishing Dates:
First published in U.S. 1984
ISBN:
ISBN 0 86276 0 64 (paperback)
Misc. Stats:
6" x 9", 242 pages
Jacket notes:
In this first ever book on The Kinks, Johnny Rogan traces the 20-year history of a British beat group that became an institution. Along with their great contemporaries The Beatles, The Rolling Stones and The Who, The Kinks dominated rock music during the 60s with a string of classic hit singles and eventually established themselves as a successful and highly influential force in the 70s and 80s. Rogan recounts the early days in London publand, the chart-topping success of 'You Really Got Me,' 'Tired of Waiting For You,' 'Sunny Afternoon' and 'Lola,' the highly original
Village Green Preservation Society
, the celebrated concept albums from
Arthur
to
Schoolboys In Disgrace
, the struggle to survive the changing musical fashions of the 70s and their final acceptance in the U.S. as one of the world's finest rock groups.
Employing the skills of the investigative journalist, Rogan has conducted extensive interviews with former group members, managers, session-men, friends and enemies. Their revelations are packed with tales of drama and intrigue documenting the notorious fistfights of the mid-60s, the nervous breakdowns and frequent clashes with the rock establishment.
Behind the Kinks' success lies Ray Davies, generally regarded as one of the most articulate of rock's elder statesmen. Rogan carefully examines Davies' development as a songwriter from early r'n'b imitation to stunningly original satirical pieces unparalleled in rock. It is a fascinating and intriguing story of a group that seemingly refuses to die.
---
KindaKinks.net
E-mail Dave Emlen