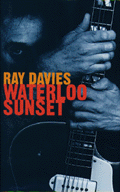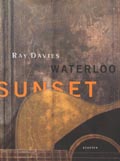 Waterloo Sunset
Author:
Ray Davies
Publisher:
UK: Viking/Penguin, London
US: Hyperion
Publishing Dates:
UK: First published 1997
US: First published 2000
ISBN:
UK Hardcover: ISBN 0-670-86640-7
US Hardcover: ISBN 0-7868-6535-0
Misc. Stats:
UK: Hardcover, 5.25" x 8.5", 249 pages
US: Hardcover, 5.5" x 8.25", 288 pages
Jacket notes:
[UK edition]
Ray Davies is one of rock's most evocative and talented songwriters. Now the inspiration behind those classic songs has come alive again.
This is a concept album set on paper, whose interlinking narratives are held together by Richard, who is helping an ageing rocker to make a comeback; by a sinister character from one of the songs; and by deeper chords that are resonant of the struggle to retain identity amid the confusion between pretence and reality. It's still a rock 'n' roll world, and whether the mood is fantastic, laconic, exuberant, witty or moving, like his music, the words of Ray Davies still cut through to the bone.
---
Ray Davies was born in North London. Together with his younger brother, Dave, he launched the Kinks in February 1964. Their first number-one single, 'You Really Got Me', was followed by thirty albums and a series of hit singles, including 'Waterloo Sunset' and 'Lola'. Ray Davies has also worked in television, film and theatre and has written songs for other well-known pop musicians. His first book,
X-Ray
, his autobiography, is published by Penguin. He lives in London.
---
PRAISE FOR X-RAY:
'Pop biographies rarely come more inventive than this... an enjoyable mix of true confessions and quasi-fictional scene-setting... The eye for detail is as precise as in the best of his 1960s music work, and his creativity is sharply evident throughout'
-Alan Jackson in THE TIMES

'We romp across the decade with flair: tales of power games with the Beatles, girls with lacquered hair... greedy deals in Denmark Street and immortal songs written from within the pits of despair'
-Paul Du Noyer in MOJO

'X-RAY is that rarest of things: a rock-star autobiography that is engaging, entertaining and well-written, to boot'
-Tom Hibbert in the MAIL ON SUNDAY
---
KindaKinks.net
E-mail Dave Emlen