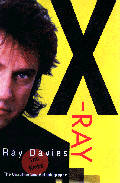 X-Ray
Author:
Ray Davies
Publisher:
Viking/Penguin, London
Publishing Dates:
First published 1994
ISBN:
ISBN 0-670-82926-9
Misc. Stats:
6.25" x 9.5", 420 pages
Jacket notes:
'The front-door entry-lock buzzed, and I was in the hallway of the legendary Konk Studio, where the Kinks had recorded for so long. There was an uncanny, dead feeling about the place, which was festooned in cobwebs and dust. I felt as though I was entering the tomb of a great Egyptian king. I made my way through a labyrinth of corridors until I reached a doorway that creaked open as I approached.'
So begins the biography of one of the greatest rock and rollers, now in angry and defensive retirement. His would-be biographer, a nameless, faceless writer on his first assignment, has been sent by the Corporation to capture the essence of this man who flourished before conformity and mediocrity became the norm.
'R.D.' (as his friends call him) tells the story of his life -- or does he? These tales of London and the rock scene of the swinging sixties seem true, seem in outline to conform with what has been written about the Kinks over the last few decades. But surely Ray Davies of the Kinks cannot be this Raymond Douglas Davies, the hermit of north London? And who is the young writer, and why does Raymond Douglas appear to know what is happening inside his head?
Ray Davies has written an autobiography, a social history and a psychological thriller. Where does one begin and the others leave off in this elusive, daring and rewarding book?
-----------------------------------
Ray Davies was born in north London. Together with his younger brother, Dave, he launched the Kinks in February 1964. Their first number one hit single, 'You Really Got Me', was followed by thirty albums and a series of hit singles, including 'Waterloo Sunset' and 'Lola'. Ray Davies has also worked in television, film and the theatre and has written songs for other well-known pop musicians. He lives in north London.
Where to get X-Ray
At the moment,
X-Ray
has been published in the UK only, so it is hard to find here in the U.S. I got my copy (for about $34) through a mail-order store that handles imports: Music Machine (410-356-4693).
X-Ray will be published in the U.S. in September by The Overlook Press in NYC. It will be available from most book stores, and it can also be purchased directly from their warehouse: THE OVERLOOK PRESS, 2568 Route 212, Woodstock, NY 12498, (914) 679-6838. (Books will not be available before September, so wait until then to call them.)
The Overlook Press is also in the early stages of "working with Ray to set up some bookstore autographing sessions. There is also talk of Ray playing some solo concert dates in several cities here in the States."
---
KindaKinks.net
E-mail Dave Emlen