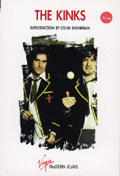 The Kinks - Virgin Modern Icons Series
Author:
Compiled by Virgin Publishing Ltd., Introduction by Colin Shearman
Publisher:
Virgin Publishing Ltd., London
Publishing Dates:
1997
ISBN:
ISBN 1 85227 678 9
Misc. Stats:
12cm x 18cm, 93 pages, hardcover
Jacket notes:
An instant phenomenon, The Kinks exploded onto the Sixties' music scene with their first hit, 'You Really Got Me'. Idolised on both sides of the Atlantic, Ray Davies' prolific song-writing and the band's energetic output, notched up an amazing 9 UK and 7 US hits between 1965 and 1967. As contemporaries of groups with squeaky-clean images, such as The Beatles, the world's press went into a frenzy with the stories of The Kinks onstage fights and rioting fans.
Their classics included such controversial material as 'Lola', written about a transvestite, and 'Sunny Afternoon', an indictment of the aristocratic classes in Britain. Sixties music is synonymous with The Kinks and the band have kept their kudos as on of the longest-lived groups of the celebrated 'British Invasion' into the US. Their influence continues today with Ray Davies actively encouraging - and performing with - new bands like Blur, bringing his skills as a craftsman of songs to a new generation of bands and their fans.
---
Colin Shearman has been a regular contributor to the
Guardian
Arts page since the 1980s, as well as working for
Time Out
as a TV writer. He has been writing for
Q
magazine since its very first issue, and specialises in rock music from the 1960s.
Packed to the hilt with facts and essential quotations from the idols and those who knew them, loved them, worked with them, envied them and hated them, Virgin Modern Icons are a major celebration of the heroes of twentieth century culture - the good, the great and the idolised.
Titles include:
Bob marley
The Clash
Iggy Pop
The Jam
The Kinks
Kiss
Led Zeppelin
Marc Bolan
---
KindaKinks.net
E-mail Dave Emlen