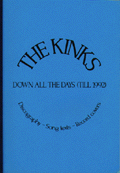 Down All The Days (Till 1992): Discography - Song texts - Record covers
Author:
Compiled by Rob Kopp
Publisher:
(self published)
Publishing Dates:
1993 - 1999
ISBN:
none
Misc. Stats:
8.25" x 11.75", 239 pages, softcover (double-sided A-4-sized photocopies)
Jacket Notes
[The jacket notes are in Dutch (but the contents of the book are in English), so I'll just put my own comments here. The main thing of interest about this book is that it contains the lyrics to almost every single Kinks, Ray Davies & Dave Davies song ever written. This includes covers done by the Kinks, covers of Kinks/R. Davies songs done by other artists, and rare songs only found on bootlegs. Most of the lyrics in the book are not from an "official" source -- they were transcribed by listening to the songs, with corrections sent in by other fans (much the same way the lyrics on this web site are created/maintained). -dte]
Check out
Rob's Homepage
Rob has graciously made the 1999 edition of his book
available to download
as a PDF file (right-click the link and choose "Download" or "Save". 260MB).
---
KindaKinks.net
E-mail Dave Emlen