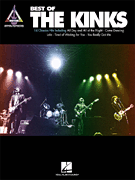 Best Of The Kinks
Publisher:
Hal Leonard Corporation
Publishing Dates:
2001
ISBN:
0-634-00188-4 (HL00690339)
Misc. Stats:
9" x 12", 96 pages
Notes:
"Authentic transcriptions in notes and tab for 14 classic hits from these British Invaders who've been inducted into the Rock & Roll Hall of Fame." Includes sheet music and tablature, worked out by Jeff Jacobson and Andrew Moore.
Contains: All Day and All of the Night, Come Dancing, Come On Now, Don't Forget to Dance, Everybody's Gonna Be Happy, Lola, Rock 'N Roll Fantasy, Set Me Free, Sleepwalker, Something Better Beginning, (So) Tired of Waiting for You, Well Respected Man, Who'll Be the Next in Line, and You Really Got Me.
---
KindaKinks.net
E-mail Dave Emlen