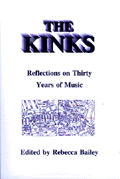 The Kinks - Reflections on Thirty Years of Music
Author:
Edited by Rebecca Bailey
Publisher:
Trillium Publications, Kentucky
Publishing Dates:
1994
ISBN:
ISBN 0-9640755-1-2
Misc. Stats:
6" x 9", 208 pages, softcover
Jacket notes:
THIRTY YEARS OF ROCK AND ROLL
In 1964 the world took notice of THE KINKS' innovative, energetic music: "You Really Got Me," "Till the End of the Day," "All Day and All of the Night."
In 1994 THE KINKS still make the world take note. 1993's highly acclaimed Phobia was supported by over 100 concerts worldwide.
THE KINKS: REFLECTIONS ON THIRTY YEARS OF MUSIC is a collection of articles, essays, reviews, and interviews from writers including Steve Simels, Rebecca Bailey, Dan Forte, Fred Schruers, Matt Resnicoff, Earle Law, Danny Kirby, James Martens, and David Wild, plus an extensive bibliography.
1990s interviews with
Mick Avory
Dave Davies
Ray Davies
John Gosling
Bob Henrit
Pete Quaife
Jim Rodford
Rebecca Bailey is coauthor of the poetry collection Three Women Alone in the Woods. She teaches at Morehead State University in Kentucky.
Ordering Information
To order by mail
: Books cost $10.00 each. In the U.S. add $2.00 shipping and handling (KY orders add 6% sales tax). In Europe, add $8.00 for airmail postage; in Australia and Japan, add $9.50.
U.S. dollars only: check drawn on U.S. banks, International Money Orders, or cash in U.S. dollars (at your own risk), payable to Rebecca Bailey. Please print shipping name and address clearly.
Mail orders to Rebecca Bailey, Trillium Publications, 2465 Rock Fork Road, Morehead, KY 40351 USA.
---
KindaKinks.net
E-mail Dave Emlen