The Little Brother Goes Solo (Part Three)
Dave Davies 1996 until today
by Carey Fleiner
'I feel comfortable in the nineties, as if my whole life has been leading up to this point in time…' (Kink, 269)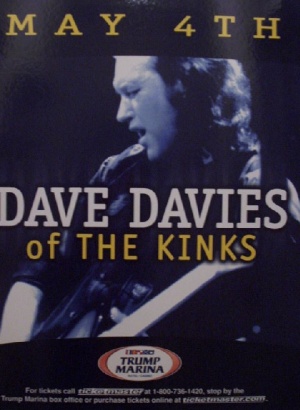 The Kinks last formal tour was in 1995. Mr Ray Davies performed his first solo outing with his autobiography about this time, and then the Kinks played the Oslo Festival in 1996. No official, 'Right that's it, then' -- they just have not toured since.
Mr Dave Davies had already been recently working on solo projects: A friendship with Mr John Carpenter produced music for two of the director's movies, 1995's In the Mouth of Madness (title track), and a remake of Village of the Damned (score), and Mr Davies himself penned two film scripts.
And now, whilst the other Mr Davies continued his solo tour, Mr Dave Davies took the time to write his autobiography, Kink. His book is more or less chronology of his life beginning with his family before he arrived up until the present (1996) day -- he wanted it to be 'a personal spiritual discovery,' although the popular press and reviews emphasised the tell-all aspects 'the inevitable business rip-offs, mental breakdowns, and substance abuse.' Still, reviews were fairly positive, and the writing all over the place topic-wise but with charming good humour. Parts of the book were excerpted in the Guardian, a major British newspaper.
Meanwhile, he set off on his own solo tour, after all those years of having tours announced, arranged, and then scrapped. Partly to promote his book, the very first tour was met with practically no advance publicity, and he seemed a wee bit surprised when tracked down by a journalist for an interview prior to the show.
Initially backed by a ready-made band, he began to organise his own back up band (cheekily called The Ravens and usually travelling by van), accumulated from a pool of talent in and around the Los Angeles area. He'd met several of them, Mssrs Jim Laspesa, Derek Anderson, and David Nolte, when they had played as part of rhythm section behind him at a charity show in LA featuring Kinks' music. His first true solo appearance came on 21 April 1997 at west Hollywood's Luna Park. The first tours were ambitiously long, and he was extremely shy -- fan reviews reported that he took the stage, played his songs, and left, songbook on a music stand so high that it nearly obscured his face. Comparisons were made to the far more flamboyant, structured shows of his brother. But, be fair, he wasn't accustomed to being in the spotlight.
Nevertheless, his flair for song arrangements became increasingly apparent -- he has admitted to being a fan of Kinks' music himself, and although there are some songs he doesn't do, as not being 'his,' he has arranged several smashing versions of Kinks' standards what may actually surpass the originals -- a sentiment which horrifies the fanboys, if some of the comments in the chatrooms are anything to go by.
All the while he was refining and improving on his stage shows, gradually adding banter and audience interaction, and a bit more sponteneity -- and his own shyness gradually being replaced by his sharp wit -- for example, he took the piss from the Storyteller show by reading naughty passages from his own book. There isn't flash and bang at these shows, but instead honest hard rocking mixed in with quiet ballads -- and he has been a great success in the metropolitan areas of the United States (Wast and West Coast and North) at various clubs and art theatres (including amongst others, The Bottom Line, the House of Blues [New Orleans & Chicago], The Whiskey-a-Go-Go, and one freeshow at the base of the World Trade Center in July 2001), with a substantial German (featured on kinks.de) and UK tour (to support 'Rock Bottom's' release), and then a few one-offs on the Continent. The setlist covers his own 60s solo work through his most recent compositions (including the never-recorded bluesy 'Come to the River') as well as his favourite Kinks' songs, most from the 60s as well, and the occasional classics like 'One Night with You,' 'Twist and Shout,' and, once, 'Some Enchanted Evening.'
In the meantime, many solo CDs have been released. First was the retrospective "Best Of" named 'Unfinished Buisness' in two different versions in the US (Kronikles) and UK (Anthology) due to copyright complications and legal ramifications still haunting him from Pye and then Warner Brothers' days -- the US versions of many of his solo songs are actually 'covers' recorded at a friend's studio in California and sounded like the 'To The Bone' sessions.
He also began to produce CDs on his own label, through his own company Meta Media, founded and based in Los Angeles around 1996. The first CD was the soundtrack to a children's film, 'Purusha and the Spiritual Planet', recorded with his son Russell under the name Crystal Radio. This was followed by two self-produced solo CDs appeared -- 'Fortis Green', demos and unreleased tracks, followed by an 'unplugged' solo disk based on an acoustic show and talk session at Marion College in Wisconsin, USA.
Next came a commercial release of a selection of songs from his shows in November 1998 at the famous Bottom Line in New York City under the name 'Rock Bottom'. And another disk of previously unreleased and reworked demos appeared as 'Fragile' -- the title coming from the destruction of his Ovation allegedly by baggage handlers at American Airlines.
Then 7 May 2002 came his first original studio album since 1983, the sublime 'Bug', listed by Rolling Stone On-Line's critic Mr Charles Bermant as amongst the top 10 CDs of 2002. Musically and thematically, 'Bug' continues where 'Chosen People' leaves off, but 'Bug' is an extremely personal record, a blend of signature guitar gymnastics, and open, honest lyrics. Clearly conceived and written from the heart, and not influenced by mass market or commercial considerations, the CD plays as a concept album, a mix of nostalgia, wariness of the media, and joy of spirituality. The end result is a satisfyingly AOR record shot through with both observantly witty and earnest verses.
Mr Davies considers Bug a work in progress, and live versions of the songs from the CD came on the Meta Media release Bugged... Live!, and then more developed on 2003's 'Transformation: A Concert for a Cause' on 29 May 2003 for the Soroptimist of the Verdugos, Glendale, California. For his work with the Soroptimist cause, Mr Davies had received a commendation from Mr Frank Quintero, the Mayor of Glendale, on 22 April 2003.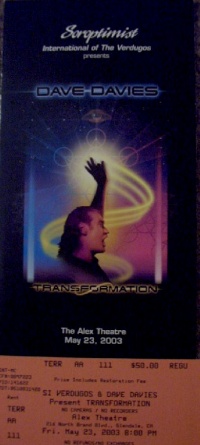 In the meantime, he had been one of the artists participating at the November 2002 'Rock 'n' Roll Fantasy camp, at the West Hollywood Hyatt, where, for $4950-a-head, would be rockers could take inspiration from their heroes. When asked what he thought about people spending so much for the privilege, he replied, 'They're totally crazy! I wouldn't come and see me...' then thoughtfully added that he would sell his car if it were him and Mr Eddie Cochran were in attendance…
In addition to his writing, touring, and composing, Mr Davies has also taken full advantage of the electronic age as well, and had designed for him a website merged from two fan sites, a site equally divided between his stature as an important and influential musician, and his own deep-seated interest in the Spirituality, his Spiritual Planet. He took a keen interest in the site, and often participated in lively message board (and occasion chat rooms) with his fans, revealing still yet the integrity of his spiritual beliefs, and a sharp sense of humour, depending on the topic at hand. Mr Davies himself will speak expansively on his spirituality, but refuses to dissect the work too much for his audience -- because the whole point of it, as is anything in life, is to work it out for oneself on one's own path.
Onwards towards the future: Mr Davies continues to work whilst recovering from a stroke that he suffered in June 2004; he is at work on a new solo album and several writing projects, one of which includes a new book on spirituality. Lately he has worked quite a bit with his sons: In addition to recording and engineering Purusha with his son Russell, he collaborates on his website with son Christian; in June 2004, his son Simon, who had played drums on 'Unfinished Business,' played percussion onstage with him in Potsdam, Germany. He credits part of the impetus to work with his older brother again to his oldest son Martin, who now works at Konk Studio, North London. Mr Davies has plans to tour the UK in 2005, and is at work on a DVD based on his Potsdam show.
Discography
In the Mouth of Madness Soundtrack
song 'In the Mouth of Madness' (guitar, guitar solo)
Produced by John Carpenter and Jim Lang
DRG 12611, January 1995
film released in the US on 3 February 1995.
Village of the Damned Soundtrack <
All tracks
produced by The Robb Brothers
Varese Sarabande VSD-5629, May 1995
film released in the US on 28 April 1995.
Unfinished Business - Limited Edition (Solo Kronikles 1980-1997)
Velvel Records (CDPRO-014) August 1997
Purusha and the Spiritual Planet by Crystal Planet (with Russell Davies)
Meta Media Records (MM-01) October 1998
Dave Davies Anthology
Castle Communications (ESS CD 584) 9 November 1998 (UK and Europe only)
Dave Davies Kronikles (1963-1998) Unfinished Business
Velvel Records/Meta Media (63467-79718-2) 12 January 1999
Fortis Green
Meta Media (MM-02), 8 November 1999
Dave Davies Solo Live
Meta Media Records (MM-03), 17 July 2000
Rock Bottom -- Live at the Bottom Line
Koch Records/Meta Media (KOC-CD-8087), 27 July 2000
Fragile
Meta Media Records (MM-04), 22 January 2001
Bug
Koch Records KOC-CD-8398, 7 May 2002
Japanese release, with "Give Something Back" as a bonus track (the same version as on the Fragile CD), 25 February 2003
UK release with 3 bonus tracks (Death of a Clown (live), Susannah's Still Alive (live), Dead End Street) on AngelAir Records (SJPCD179), 14 July 2004
Bugged... Live!
Meta Media MM 005, 22 October 2002
Songs from the Material World, A Tribute to George Harrison
song Me Love (Give Me Peace on Earth)
Koch Records, 25 February 2003
Transformation: Dave Davies Live at the Alex Theatre
Meta Media MM 006, 6 August 2003
Rainy Day in June: Dave Davies Live in Potsdam, Germany
Meta Media MM 007, 28 November 2004
Sources
various bits from contemporary American, British, German, Dutch, and Swiss newspapers and magazine cuttings in my collection
Dave Davies, Kink, 1996
Dave Emlen's Unofficial Kinks' Website
Doug Hinman, The Kinks: All Day and All of the Night: Day-by-Day Concerts, Recordings, and Broadcasts, 1961-1996
Michael Kraus, 'Unfinished Business: The Evolving Artistry of David Russell Gordon Davies,' in Living on a Thin Line: Crossing Aesthetic Borders with the Kinks, ed by T M Kitts and M Krause, Rock'n'Roll Research Press, 2002, 120-130.
'Dave Davies in Conversation with Bill Orton and Russell Smith, Hilton International, London Heathrow, 3 September 1998,' Dave Davies: Unfinished Business, The Magazine, The Official Kinks Fan Club
Interview with Bill Orton, 1 August 2001, Hoboken, NJ, United States, Dave Davies, Rock and Roll Heart of the Kinks: Further Tales of Unfinished Business, the Official Kinks Fan Club
Official Kinks Fanclub Magazine, various back issues
Press and media guides from Meta Media
special thanks to Mr David Emlen, Professor David Schimpf, and Dr Rafaela Filippi
editor: Helge Buttkereit