The Little Brother Goes Solo (Part Two)
Dave Davies 1980-1983
by Carey Fleiner
After the 60s, Mr Davies re-invented himself. Gone was the dandy. He washed the hairspray from his locks, and the lipstick and mascara off his face. He let his hair and beard grow long -- in one interview dating from 1970, he explains the new look was his way of creating a new person, perhaps to cope with the disappointment that his solo career had been stymied -- certainly, when asked at that time if he would release a solo album, his answer was a curt, 'No.'.
Throughout the 1970s, Mr Davies continued to perform with the Kinks -- through a couple of record label and personnel changes, through changes in the Kinks' musical styles and through elaborate stage productions. He played Mr Twitch, then a schoolboy, then whatever his role was in his brother's current rock opera. As the Kinks continued along from show to show, city to city, and, as always, the (British) press wondered if they were on the decline, suddenly, they were back in the spotlight, enjoying a renaissance in popularity and arena tours in America, as new groups as Van Halen burst onto the charts with smashing covers pinched from the Kinks' back catalogue.
Through it all, Mr Davies had continued to compose, and by 1980, was in the studio recording a new solo album. Whimsically called AFLI-3603 after its RCA catalog number (the record's title was eponymous elsewhere in release), recording sessions began at Konk in January 1980. Recording quickly in between Kinks' tours, Mr Davies added the finishing touches by April. Not only did he produce the album all on his own, but he also played all vocals and guitar, bass, and drums; Mr Davies' first solo album was released on 9 July 1980. AFLI sold quite well in America, supported both by a two week press tour in America in all of the major markets (during which Mr Davies was accompanied by an RCA publicist), and on the strength of the huge success of the Kinks' One for the Road, and its accompanying coast-to-coast US tour (wherein he played a few songs from the album.)
Favourable press came from Rolling Stone in a lengthy article called 'Dave Davies Forgets about the Past' in which he talked about difficult points in his life being seen as a test or a trial, and that AFLI was a result of such a time. AFLI itself was, according to Rolling Stone, 'howling anarchic couplets that rail against big government, "science and money" and other instruments of oppression.' -- and the very title & cover art -- Mr Davies' face replaced with a barcode serial number only -- expresses his wry social outlook.
Fans expecting 'Death of a Clown' were rather surprised, as AFLI is a heavy metal album. Some of the reviews called the work 'cluttered' and also noted that it was less like the Kinks, and more like contemporary heavy metal --.well why ever not? Why live in the past? And at the time Mr Davies himself remarked that he wished to create 'the ultimate heavy metal album' and in that respect one would say it was a resounding success!
It wasn't all loud noise: The gentle 'Imagination's Real' (b/w 'Wild Man') was pulled for the first single in September 1980, at about the same time the UK version of the LP was released. A second single followed in the States in November, 'Doing the Best for You' (b/w 'Nothing More to Lose') -- which was released in the UK b/w 'Wild Man' a month later.
Whatever its flaws, the album had an honest charm; continued Rolling Stone, 'It's really the cat-in-heat, rockabilly hiccupping that Dave displays in songs like 'Move Over' that makes AFLI-3603.' After the British release (retitled Dave Davies) in October, Fred Dellar of the NME gave it 'an approving nod' -- a characteristic British understatement -- and noted that the guitarwork 'flashes and grinds impressively…while Dave chomps on about everyone turning their backs on politics, religion, and just watchin' tv…' -- and Mr Davies completed press interviews in central London to help support its UK sales.
Over all, the reviews were favourable, and Mr Davies recalled this as a happy period in his career. He notes that the licks may have been noisy and over the top, but that the whole experience was cathartic and an exercise in freedom -- a wonderful and necessary opportunity to express pent up and surpressed feelings and frustrations after years of playing along with brass bands in music theatre.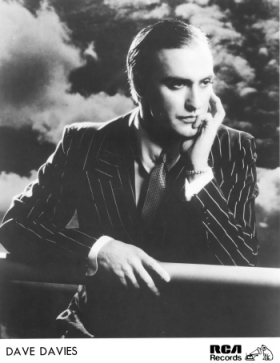 After the success of AFLI, Mr Davies quickly recorded his second solo album, called Glamour, in the beginning of 1981. Again he played all of the instruments save drums (duties here filled by Mr Bob Henrit). Recording continued through the spring, with final overdubs and mixing work finished by mid-April. Then he flew to New York to master the album at Masterworks. To create the cover art, he submitted to a haircut to recreate himself as a 1940s-era Hollywood moviestar, photographed for the album and promo materials by Mr Nick Sangiamo.
Glamour was released in July 1981 (US release; the UK release was delayed until October), another study in raw metal sound. Again Rolling Stone gave it a favourable review, complimenting the guitarwork, and praised it as a more focused, disciplined, and melodic opus than the previous record -- although they did note that Mr Davies' voice 'sounded as if the owner were in the throes of death by strangulation.'
Additionally, if one gives a good listen to the lyrics, one can hear Mr Davies' nascent (in song) aggressive political stance -- this album came out during the Reagan/Thatcher years, and he recalls thoroughly enjoying the work, describing it very much a product of the times. Many of the songs embody Mr Davies' feelings of distrust for the media and its spin, and his concerns about how oblivious some are to the aetherial world beyond their own superficial self-importance. The album's artwork is deliberately multilayered in meaning on this theme, and shows a wealthy politician who, so bent on saving the world with lofty programmes, that he actually neglects all the troubles and suffering around him, as he is too interested in himself saving the world, and not actually saving the world, and is oblivious to disaster even when spiritual guides attempt to interveneand set him back on the correct path.
As Mr Davies remarks, 'We are all so busy being blinded by the temptations of 'materiality' that it distracts us from the inner spiritual journey ... soul growth. 'Is This The Only Way' is a song about 'pretense'... Nero fiddled why Rome burnt. The basic message of the album"'.
Unfortunately, Glamour did not sell very well. Despite its rave review from the renowned Rolling Stone, the album did not receive much press, and this greatly affected sales --despite the prior success of AFLI and the high visibility of the Kinks on constant tour. Mr Davies himself attributed the failure to promote the album due to the loss of a close associate with RCA, and as, a consequence, he had less rapport with the record company. Mr Davies has wondered, too, if perhaps the nature of the lyrics were too intense and controversial for RCA, and as such affected sales -- that the merchants wanted something marketable one could play on the radio in the car whilst stuck in traffic, not thoughtful love songs about finding enlightenment as cultures join in love and understanding to complement each other as in the lovely 'Eastern Eyes'.
After poor sales with Glamour, RCA dropped Mr Davies from their stable. After some searching (because most labels didn't wish to risk an artist already with a big name group), he found a new label at Warner Brothers for his third solo effort, Chosen People (August 1983 release in the US; October release in the UK and Germany). Much of the album was composed in Portugal and Los Angeles, and rehearsals and recordings began in June 1982 -- unlike the earlier albums, Mr Davies employed other musicians. A recording contract was secured by September.
A taster single appeared in the States in September, 'Love Gets You' backed with 'One Night with You' -- the latter appearing (officially) only on this hard-to-find single. There were some problems with the single getting American radio air-play, as 'Love Gets You' was deemed 'too suggestive' for sensitive ears!'
Chosen People stands out from the first two albums in that musically, it is a balanced mix of hard rock and ballads, and lyrics which were far more personal this time -- thoughtful words either witty and observant of the world around him, or revelatory of his increasing exploration of his own spirituality. In fact the work itself was inspired by Mr Davies' discovery of and interest in an influential book written by the Lakota Black Elk.
The difficulty with Chosen People is not the quality of the work, but the bait-and-switch tactics of Warner Brothers. Woo'd by their sales pitch, and believing that the record would be well promoted and distributed, Mr Davies was horrified to discover all of his hard work was for naught -- Warner wanted nothing more than a tax loss, had no interest in promoting the LP or gaining it airplay. This was discovered after he had appeared on American Bandstand lip-syncing 'Love Gets You' (scheduled for 22 October, but not shown until 3 December), and myriad press and interview work for and at Warner's various offices in September. Additionally, Mr Davies ended up financing the video for 'Mean Disposition' out of pocket when Warner refused -- and the subsequent video was described happily by Faces magazine at the time as 'a big wow! on MTV'

Despite his hard work and effort, and belief in Warner's initial enthusiasm, Mr Davies grew depressed and despondent as he realised that the press had no interest in hearing about his enthusiasm for metaphysics and spirituality, and in some cases made fun of him, or wanted only tabloid rubbish about flying saucers - leading to increasing hurt and frustration with the promotion. Furthermore, he was upset that Warner did not back or promote him as promised, and, a lasting blow, Warner maintain until present day copyright control over the music and words. As a consequence the LP has not been released officially on compact disk; although six of its songs appeared on the UK Castle release of Anthology, all had to be left off its US counterpart Unfinished Business.
So despite its two singles ('Mean Disposition' was released in mid-November), television appearance, and much press and promotion work, barely anything actually appeared in the press, and Chosen People failed to chart and remained overlooked despite its intelligent lyrics and performance excellence.
And so, again as with Mr Davies' 1960s solo efforts, the work of the 1980s was of superior quality. The musicianship was outstanding, and he certainly showed that he was not stuck in the past, but capable of keeping up with contemporary music genres and trends. His versatility was evident, as always -- he met with sweet ballads those who criticised him as being loud and brash and nothing but cacophonous heavy metal -- and throughout it all, sharp and knowing lyrics, and an earnestness and honesty in his verses that belie his own personal beliefs and outlook with an open, sincere charm. He certainly showed his professionalism and perseverance, taking seriously his press duties, and following up the albums with television appearances, and taking advantage of the then-new medium of music video. What press did, gave him favourable reviews -- and when he was promoted well, the fans bought his records. But yet again, the record labels and suits let him down, and failed to take a risk and promote him.
Although the 1980s were a frustrating setback for Mr Davies' solo career, all was not lost -- some of his best work and success as a respected musician, lyricist, and performer was yet ahead...
Discography
AFLI-3603
US release RCA Victor AFLI 3603 (13 June 1980)
UK release RCA Victor PL 13603 (26 September 1980) (retitled 'Dave Davies')
released remastered in Japan (with "Wild Man" as bonus track) in 2002
released as a CD with Glamour (1992 minus the track Move Over and 2003 complete on two CDs)

Imagination's Real/Wild Man
US RCA Victor PB 12089 (September 1980)

Doing the Best for You/Nothing More to Lose
US RCA Victor PB 12147 (14 November 1980)

Doing the Best for You/Wild Man
UK RCA Victor PB 9620 (5 December 1980)

Glamour
US RCA Victor AFLI-4036 (1 July 1981)
UK RCA Victor RCALP 6005 (16 October 1981)
on CD together with AFLI-3603 (see there)

Chosen People
US Warner Brothers 23917-1 (1 August 1983)
UK Warner Brothers 92-3917-1 (7 October 1983)
no official CD release although six of its tracks were released on Dave Davies Anthology

Love Gets You/One Night With You
US Warner Brothers 7-29509 (2 September 1983)

Mean Disposition/Cold Winter
US Warner Brothers 7-29425 (18 November 1983)
Television Appearances
Love Gets Youy
American Bandstand ABC-TV, United States, aired 3 December 1983
Music Videos
Mean Disposition
debuted on MTV, October 1983
Sources
http://www.davedavies.com/solo.htm
various bits from contemporary American, British, German and Swiss newspapers and magazine cuttings in my collection
Dave Davies, Kink
various issues of "Kinky Mirror" and "Kinks Info" (German fanzines)
Doug Hinman, The Kinks: All Day and All of the Night: Day-by-Day Concerts, Recordings, and Broadcasts, 1961-1996
Doug Hinman, The Kinks, Part One: You Really Got Me: An Illustrated World Discography of the Kinks, 1964-1993
Neville Martin and Jeff Hudson, The Kinks: Well Respected Men
'Dave Davies in Conversation with Bill Orton and Russell Smith, Hilton International, London Heathrow, 3 September 1998,' Dave Davies: Unfinished Business, The Magazine, The Official Kinks Fan Club
Johnny Rogan, The Complete Guide to the Music of the Kinks
Johnny Rogan, The Kinks: A Mental Institution
Special thanks to Mr Wayne Eberhart of Seattle, Washington, who helped out with the two Warner Brothers singles; Mr Emlen for the 'Mean Disposition' vid and some additional info I hadn't known about Chosen People; and to Adi Kuhlmann who loaned me his extensive collection of back issues of the German publications, Kinky Mirror: Deutsches Kinks Magazin and Kinks Info.

editor: Helge Buttkereit & Thomas Bartoldus