80 Days - A New Musical (1988)
Ray Davies and his alter ego Jules Verne vs. Broadway and mediocrity
by Thomas Bartoldus
"When you're doing ›Around the World‹ and entering the world of Jules Verne, there's no choice but to be big and spectacular." Broadway director and dramaturge Des McAnuff does not have any doubts about the extraordinary nature of a musical, which critics called one of the most lavish and expensive stage productions the West Coast has ever seen. Six years of intensive preparation had preceded the world premiere of ›80 Days. A New Musical‹ on August 23, 1988, at the Mandell Weiss Theatre in San Diego. Together with playwright Snoo Wilson (script) and English songwriter Ray Davies (music and lyrics), Tony-Award winner McAnuff created during this period a musical of 2 ½ hours length. Modern stage design with movable intermediate stages, along with extravagant properties and lavish costumes, formed a kaleidoscopic framework for not less than 40 changes of scenery and 400 changes of costumes. 173 Commedia-dell'Arte-style masks gave the 24 actors the opportunity to perform up to 200 characters of different origin. The baroque equipment supported a story full of allusions which follows the plot of Verne's novel on the outside, but is on the inside only 'inspired' by its literary model and the biography of the author who as a literary figure takes the role of the French servant Passepartout.
The content: The writer Verne is in the midst of a creative and social crisis: he has to provide nourishment for his family, and publishers force him to deliver a new best-seller within 80 days. In order to overcome his writer's block, Verne decides to travel around the world in 80 days as a servant to the English gentleman Phileas Fogg - a journey which takes place only in his fantasy. Being creator and creature of his literary imagination at the same time, Verne tries, against the opposition of the fictitious cast, to present the events following the bet in London's Reform Club in an attractive manner. In the meantime, he is constantly being persecuted by a gigantic typewriter, which serves as a reminder of the peremptory deadline and the expectations of his publishers. Verne's concept is considerably shaken not only by Fogg's emotional coldness and his arrogance, but also by an uninvited travelling companion, namely the Victorian matron Mrs Fix, the mother of the detective, as well as by the haughty Indian princess Aouda, who refuses to play the part of the damsel in distress and the paramour. Along the way from London via Paris, Suez, Bombay, Calcutta, Yokohama to San Francisco by ship, train, elephant, and - against Verne's will - by aerostat, the travellers encounter not only characters from earlier novels (e.g. Captain Nemo), but also historical characters such as Queen Victoria, prime minister Gladstone, and the American journalist and feminist Nellie Bly. Having reached the end of the journey and the novel, Fogg, Aouda and her child finally come together in a marriage blessed by Queen Victoria, whereas Verne has to face new literary challenges.
The way time is presented - not to say over-represented - as a central theme in "80 Days" hints at the apocalyptic dimension of this piece of world theatre with an imperialistic tone: Verne, Fogg, Fix, Mrs Fix, and Aouda together form a miniature portrait of the Empire, whose time finally has come. The end of the musical, which differs from its source, is an ironic swansong for the Victorian Age, trying hard to suggest that ethnic prejudices have been overcome: having received Queen Victoria's blessing, the freshly-married couple walks into the sunset, although not alone. They are accompanied by Aouda's child, symbolizing the next generation. At the end of the Empire, where the sun goes never down ("Empire Song"), there waits the agony of the 20th century.
The musical combines textual and/or dialogue passages of different length with musical parts of varied character; they are used to increase the action, to interpret and to comment. The music is the motor of "80 Days". Ray Davies relates his music to Verne's narrative variety and the satiric potential of Wilson's script. Quite early he became, although an Englishman, fascinated by American musicals such as "Oklahoma!" or "Calamity Jane". His contribution to "80 Days" combines different styles of music such as military marches, ragtime, can-can, vaudeville, bebop, and raga that add up to something like the soundtrack of a journey around the world. At first, Davies was not fascinated at all when McAnuff approached him with the idea of making a musical based on Verne's novel in 1984. "I didn't like the novel. It was a bit of a travelogue." The closer he studied the French writer, however, the better he was able to recognize similarities in nature between the two of them. Davies was even responsible for the idea of making Verne himself the protagonist of the play: "I wanted it to be about Verne rather than the sort of travelogue like the Mike Todd movie. And I also wanted it to be about the Empire, about imperialism. I've always had a passion for that."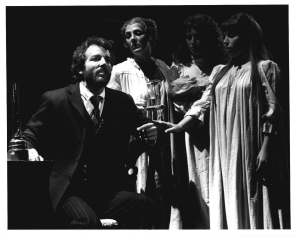 The musical received mixed responses from the critics, provided these nuances were recognized at all. Ray Davies's multi-faceted music, McAnuff's directing, and the acting (Stephen Bogardus, among others), however, were well received. On the whole, it was acknowledged that McAnuff, Wilson and Davies went to the limit of what is possible on stage, but at the same time many critics viewed the play as being too cluttered to ever reach Broadway. While taking a closer look, it becomes evident that advantages and disadvantages of the production are mutually responsible for each other and hint at the sore point of any conversion of a novel into a drama: The limited space of narrative time indigenous to a musical or a drama is always in contrast to the sheer vastness of literary content. Despite good attendance figures and awards, the musical was performed for the last time on October 9, 1988, in San Diego, without making it to Broadway. Nevertheless (or perhaps just because of that), "80 Days" rises above the previous stage adaptations of ›Around the World in 80 Days‹ in terms of creative interpretation and artistic reproduction.
"80 Days" - Names, facts, songs
Production: La Jolla Playhouse, San Diego (USA)
Music and lyrics: Ray Davies
Written by: Snoo Wilson
Directed by: Des McAnuff (Foto)
Conception: Ray Davies, Des McAnuff und Snoo Wilson
Inspired by Jules Vernes Roman ›Reise um die Welt in 80 Tagen‹
Choreographer: Dianne McIntyre
Stage design: Douglas W. Schmidt
Costumes: Susan Hilferty
Masks: Christina Haatainen

Cast: Stephen Bogardus (Verne), Timothy Landfield (Fogg), Yamil Borges (Aouda, Foto), Brooks Almy (Mrs. Fix), Don Amendolia (Fix) u.a.


Performed from August 23 to October 9, 1988, at Mandell Weiss Theatre, San Diego

Received awards for "Best Musical" (San Diego Theatre Critics Circle) and production, direction, acting (Brooks Almy and Timothy Landfield), scenery and costumes (Drama-Logue)

First Act (Frankreich - London - Europa - Indien)
"Let It Be Written" - Verne, family and publishers
"The Empire Song" - Preacher, Mrs Fix, Gladstone, archbishop, astronomer, Fix
"Well-Bred Englishman" - Fogg and Reform Club
"Against The Tide" - Fogg and Verne
"Ladies Of The Night" - Ladies, Fogg and Madame
"It Could Have Been Him" - Mrs. Fix
"Mongolia Song/No Suprises" - Verne, Fogg, Fix, Mrs. Fix, Cumberland
"It Could Have Been Him (Reprise)" - Queen Victoria
"Welcome To India" - Gouverneur and soldiers
"Just Passing Through" - Fogg and Verne
"On The Map (Reprise)" - Reform Club, Queen Victoria
"Members Of The Club" - Gladstone and Reform Club
"80 Days" - Verne, Fogg, Fix, Aouda, Mrs. Fix

Second Act (Asien - USA - England)
"Tell Him, Tell Her" - Fogg, Aouda, Verne, Mrs. Fix
"Let It Be Written (Reprise)" - Verne, family and publishers
"Who Is This Man" - Aouda
"Here!" - Nellie Bly
"On The Map (Reprise)" - Reform Club
"A Place In Your Heart" - Mudge, Mrs. Mudge, Aouda, Fogg, Fix, Mrs. Fix
"Be Rational" - Fogg and Verne
"80 Days (Reprise)" - Aouda, Bly, Mrs. Fix, Fogg, Nemo, Verne
"Finale"

Songs which were not performed
"Who Do You Think You Are" - Aouda
"Conspiracy" - Fix
Further Reading
Thomas Bartoldus - Ralf Junkerjürgen: Une adaptation musicale du Tour du monde en quatre-vingts jours, in: Bulletin de la Société Jules Verne. No. 147. 3éme trimestre 2003. S. 51-53.
Doug Hinman: All Day And All Of The Night. Day-by-day concerts, recordings and broadcasts, 1961-1996. London 2004.

The author likes to thank Doug Hinman for press material and support, Jessica Padilla (La Jolla Playhouse) for the photos and Steve Gouveia (La Jolla Playhouse).
All photos are used with permission of the La Jolla Playhouse, San Diego.
translation: Oliver Bürenkemper
editor: Helge Buttkereit