The Little Brother Goes Solo (Part One)
Dave Davies' solo career in the 60s
by Carey Fleiner
The first phase of Mr Dave Davies' solo career began in early 1967 when he wandered into the front room of his mum's house to mess about on the piano. Only 20 years old, newly married, an innovative guitarist for a successful rock band, he was perceived in public as a wild, free-spirited raver. Yet on the inside, he felt sad and depressed: "like a cheerless clown, all painted up for fun on the outside, but hurting on the inside." He brought his keyboard tinkering to the studio, and, beginning with only the line, "let's all drink to the death of a clown", he and his brother composed a song that was at once musically and lyrically raucous and melancholic -- and that would become a major hit in the UK and Europe in the summer of 1967.
Initially, "Death of a Clown" was intended for release as part of the Kinks' album Something Else, and indeed the track appears on it. But then-Kinks manager Mr Robert Wace and Pye Records thought the song had potential on its own, and they scheduled it as a solo release. "Death of a Clown" hit the Melody Maker charts at number 23, and by July had topped out at number 3, staying on the charts for 9 weeks.
Mr Davies seemed simultaneously surprised, pleased, and embarrassed that "Death of a Clown" took the charts by storm; indeed, the initial thoughts of a couple major trade papers was that the song was "all right" but doomed to failure as little more than a novelty before it was even released! Quite the contrary, the single took off, as evidenced by no fewer than 7 contemporary covers of the song (6 in 1967), including an Italian and French language version.
To promote the single's release, Mr Davies did advance publicity press and photo ops (the famous image of him as 'Summer of Love' icon in his green jacket and lace jabot was photographed at Leale Clairville Studios, London, by Mr Mike Leale in late June); yet there was some contradiction of his image: at the same time in the press he insisted his single was not the end of the Kinks, the photos were taken to establish his identity as a solo star! "Death of a Clown/Love Me Till the Sun Shines" was released in the UK on 7 July; some television appearances began at the same time and started with Top of the Pops on 27 June, where Mr Davies appeared in a cavalier costume hired from Berman's, and introduced accidently by host Mr Alan Freeman as "Ray Davies".
As with his subsequent singles, tour packages with Mr Davies as headliner and backed by a new band were arranged, then scrapped almost as quickly as they were conceived. One of the trade papers, Melody Maker, ran a story insisting that he had been tapped as potential leading man material, and would be whisked off to Hollywood straight away to begin his film career. (Mr Davies himself remarked elsewhere at the time he'd be better at silent films as he could never remember the words to anything!)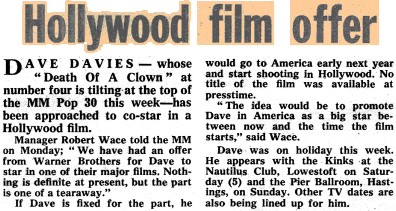 Even though Mr Davies told the Record Mirror on 26 August 1967 that he had no plans to rush out even another single, demands were made for more solo work and an album. He felt uncomfortable, however, that he was being pushed into the project, and his heart was not in it. Indeed, he seems to have gone through with further recordings for solo work and television appearances only at the persuasion and encouragement of his wife and brother. Although he gamely promoted "Death of a Clown", he ended up ill from exhaustion and stress.
The next single to appear was "Susannah's Still Alive", recorded on October 1967, and released b/w "Funny Face" on 24 November 1967. It met with kind reviews from Melody Maker, which felt "Susannah", melodically hung from a bluesy chromatic scale and grittily inspired by Leadbelly, was even more of a potential hit that "Death of a Clown". "Susannah's Still Alive" shot up to number 13 on the charts, and at the time, Mr Davies was optimistic about the work: "The one thing about going solo for two records has done for me is give me a little confidence in myself. I mean, if this disc died a death next week, I would still feel that I could go out and try again…"
The record company had wanted a solo album, and one planned that would be a mix of blues covers and original work was abandoned. Still, Pye wanted something else on the market whilst the Kinks were touring in the UK, so in April, 1968, they released an EP of the four songs from the singles, called Dave Davies Hits. The EP did not sell well, as the Kinks' popularity was at a low at this time, and the record is now one of the rarest and most sought after by collectors.
In the midst of tumultuous Kinks touring and personal difficulties, Mr Davies recorded and released his third single in summer 1968 again to rave reviews, the lovely shouter 'Lincoln County' (b/w "There is No Life without Love"). "Lincoln County" also reflects his love of Eddie Cochran and Leadbelly. With the Kinks backing him, he played the song on a BBC-TV programme called Colour Me Pop (this show has been wiped from the BBC's archives). Unfortunately, this record did not do as well as the first two singles -- said Mr Davies at the time, "It was put out, then withdrawn, then it was put out again, and withdrawn again! By the time it really DID come out, third time lucky, it was unlucky. It was too late - no television, no radio, no nothing. The problem hadn't been with the record ... but the difficulty was over when exactly a new Kinks' single was due out. We didn't want the two to clash." Despite yet more talk about a solo cabaret tour with a whole new band behind him, nothing came of it. With little airplay, the single quickly disappeared -- undermining his confidence, and lessening Pye's interest in promoting him.
More solo demos were recorded in December 1968 at Polydor Studios, but again, Mr Davies was not pleased with the final result -- although out of this session came "Hold My Hand", which was released as his fourth and final single in January 1969. The song came out at a time when the trade papers like Beat Instrumental thought that the Kinks were winding down, and that with this single, the younger Mr Davies was branching off on his own. He himself told the magazine that if the single "clicked" he would use it as a launch point for a solo club act.
Backed with "Creeping Jean", a bit of raunchy fun from the Polydor sessions, this single also failed in the UK. There was some success of the single in Germany, and Mr Davies played it on German tele's Beat Club. Interestingly enough, as of the last few years, "Creeping Jean" is popular amongst the "retro-mods" in London; one shop-owner in Soho said copies of the single are very much in demand amongst the neo-hipsters at the specialty clubs. But at the time, with the failure of the single, Pye lost interest completely in Mr Davies as a solo artist.
Musically, the songs he wrote and recorded were brilliant, and those critics who did receive them, wrote rave reviews. Mr Davies' writing was more down-to-earth in contrast to the sharp satire of his brother's compositions, and he remarked that his songs were personal "impressions about other people and how they see me."
The biggest question remains: Why did Mr Davies' solo career stop abruptly in the late sixties -- why did he not release his first solo album until 1980? There are several reasons. In the first place, very little distinction was made between what was a Dave-record and a Kinks-record. His songs continued to appear on Kinks' albums even as they were promoted as part of his own career. The initial solo album would have been him simply singing his own compositions with the Kinks' backing. So there was a blur of confused identity. Mr Davies himself did not wish to leave the band, feeling that the camaraderie and sense of unity was more important than striking out on his own at this time. Additionally, as he remarked in an interview to Mr Bill Orton in 1998, he felt pressured by the company, and felt that he simply couldn't churn out songs on demand.
Another difficulty is that the music, and Mr Davies, simply wasn't promoted -- or rather, was not seriously promoted, and he felt uncomfortable that the recording sessions and production were not taken seriously. Lots of talk of albums, and tours, and movies, and many, many promises. But what is the point of recording songs when they do not receive much airplay? Or press releases? For example, 'Death of a Clown' was released as a single in the United States apparently to no reviews or press notices.
A final reason is how Mr Davies himself felt -- coping with a mass of contradictions. On the one hand, 'Death of Clown' was a tremendous boost to his ego and confidence as a songwriter and performer. But always there was reluctance and balkiness -- mainly because he felt used. Although he told the Record Mirror in 1969 or 1970, that it was the company blocking the release, it seems he himself blocked the solo work. All this chat, all these promises, yet he felt he was never being taken seriously as a musician, but only taken advantage of by the change-counters, and he grew increasingly unhappy with the whole situation, despite the support and encouragement of his family and friends -- and of especially his brother, who spoke openly and frequently in the press of Mr Davies' talent as a musician and songwriter. Nevertheless, Mr Davies never seemed completely confident; of the Polydor sessions, he remarked years later, "It was more like someone's front room than a professional studio; I felt I was being taken advantage of again, being forced to make an album on the cheap. I got so upset I cancelled the rest of the recordings."
Even today he seems unhappy that some of the tracks have appeared on bootlegs, and says he feels almost as if he is listening to a stranger -- he's commented time and again over the years how sad and depressing the song-lyrics are, and how unhappy he must have been at the time. If it is true that he writes from the heart, then his lyrics and tone do reflect the treatment with which he was met during the first phase of his solo career.
In 2002 Sanctuary records planned a release of the unreleased solo album of the 60s with the title "The Great Lost". It seems that the production was ready and in 2001 Davies was interviewed by the fan club about the songs but the release was deleted. At the moment it remains unclear if this record with the three official unreleased songs (plus one alternate take) will ever appear on the market.
(Carey Fleiner plans to write two more parts of the series about Dave Davies: one about the albums in the 80s and one about Dave Davies' solo career after the end of the Kinks' in 1996).
Discography
(for complete details, please see Mr Hinman's exhaustive tome)
Singles
Death of a Clown/Love Me Til the Sun Shines
UK Pye 7N 17356 (7 July 1967)
US Reprise 0614 (2 August 1967)
Also released in South Africa, Australia, New Zealand, Poland (b/w Engelbert Humperdink's 'The Last Waltz'), India, Israel, Canada, Denmark, Norway, West Germany, France, Ireland, Italy, Netherlands, Portugal, Spain
Love Me Till the Sun Shines/No Return
Reprise [No number assigned], July 1967
Sent on tape to Reprise in the United States, but never issued or catalogued.
Susannah's Still Alive/Funny Face
UK Pye 7N 17429 (24 November 1967)
US Reprise 0660 (31 January 1968)
Also released in Australia, New Zealand, India, Canada, Denmark, Norway, West Germany, France, Ireland, Spain
Hits
UK Pye NEP 24289 (19 April 1968)
Also released in Australia, France, and New Zealand.
Lincoln County/There Is not Life Without Love
UK Pye 7N17514 (30 August 1968 -- two months after its initial release in the Netherlands)
Tapes sent to the US, but never pressed.
Also released in Australia, New Zealand, India, Denmark, Norway, West Germany, France, Ireland, Netherlands
Hold My Hand/Creeping Jean
UK Pye 7N 17678 (17 January 1969)
Also released in New Zealand, Norway, West Germany, Ireland, Netherlands
LP
Untitled
Pye [No Number] September 1969-Spring 1970
Reprise [No Number] Autumn 1969-Spring 1970
Proposed Tracks: [initial release in the UK]
Susannah's Still Alive
[released a single, 24 November 1967]
There is No Life Without Love
[released as the B-side to Lincoln County]
This Man He Weeps Tonight
[released as the B-side to Shangri-La, 12 September 1969]
Mindless Child of Motherhood
[released as the B-side to Drivin, 20 June 1969]
Hold My Hand
[released as a single, 17 January 1969]
Do You Wish to be a Man
[no official release]
Are You Ready?
[no official release]
Creeping Jean
[released as the B-side to Hold My Hand]
I'm Crying
[no official release]
Lincoln County
[released as a single, 21 June 1968]
Mr Shoemaker's Daughter
[released as a bonus track on the Castle CD, Arthur (or the Decline and Fall of the British Empire, May 1998]
Mr Reporter
[released as a bonus track on the Castle CD, Face to Face, September 1998]
Groovy Movies
[released on a bonus EP included with Dead End Street - Greatest Hits, October 1983; released in the USA in another mix on the "Great Lost Kinks Album" 1973]
planned "Re"Release of the LP
Dave Davies: The Great Lost
Release Date: first planned April 2002
Sanctuary Records
MRCD406
"Original album"
This Man He Weeps Tonight
Mindless Child Of Motherhood
Hold My Hand
Do You Wish To Be A Man*
Are You Ready*
Creeping Jean
Crying*
Lincoln County
Mr. Shoemakers Daughter
Mr. Reporter
Groovy Movies
There Is No Life Without Love

Bonus Tracks
Susannah's Still Alive
Death Of A Clown
Love Me Till The Sun Shines
Funny Face
This Man He Weeps Tonight
Creeping Jean
Lincoln County (Mono Single)
There Is No Life Without Our Love (Single)
Death Of A Clown (Single)
Love Me Till The Sun Shines (Single)
Hold My Hand (Alternate Version)*
* - previously unreleased (official)

Television Appearances
(source, Doug Hinman, The Kinks: All Day and All of the Night)

Death of a Clown
Top of the Pops, BBC, 13 July 1967
Beat Club, Germany, 22 July 1967
Top of the Pops, BBC, 27 July 1967
Top of the Pops, BBC, 3 August 1967
Beat Beat Beat, Germany, 16 October 1967
Vibrato, Belgium, 24 October 1967

Susannah's Still Alive
Top of the Pops, BBC, 7 December 1967
Beat Club, German TV

Lincoln County
Late Night Line Up, Colour Me Pop, BBC, 26 July 1968
It's Dee Time, BBC, 21 December 1968

Hold My Hand
Discoteque, Granada, ITV, 26 March 1969
Beat Club, German TV

Sources

various bits from contemporary Melody Maker, NME, Record Mirror, Disc and Echo, and Mojo Magazines in my collection
Archived Articles on Mr Davies' website at http://www.davedavies.com/review.htm including NME, Record Mirror, Beat Instrumental, Trouser Press, Creem, & Wonderous Stories
Dave Davies, Kink
Dave Emlen's Unofficial Kinks' Website, www.kinks.it.rit.edu
Doug Hinman, The Kinks: All Day and All of the Night: Day-by-Day Concerts, Recordings, and Broadcasts, 1961-1996
Doug Hinman, The Kinks, Part One: You Really Got Me: An Illustrated World Discography of the Kinks, 1964-1993
N. Martin and J. Hudson, The Kinks: Well Respected Men
'Dave Davies in Conversation with Bill Orton and Russell Smith, Hilton International, London Heathrow, 3 September 1998,' Dave Davies: Unfinished Business, The Magazine, The Official Kinks Fan Club
Interview with Bill Orton, 1 August 2001, Hoboken, NJ, United States, Dave Davies, Rock and Roll Heart of the Kinks: Further Tales of Unfinished Business, the Official Kinks Fan Club
Official Kinks Fanclub Magazine, various back issues
Johnny Rogan, The Complete Guide to the Music of the Kinks
Johnny Rogan, The Kinks: A Mental Institution

text: CDFleiner, 13 February 2004
additions and corrections: Helge Buttkereit & Thomas Bartoldus